TWC App Loses Old Friends, Makes New Ones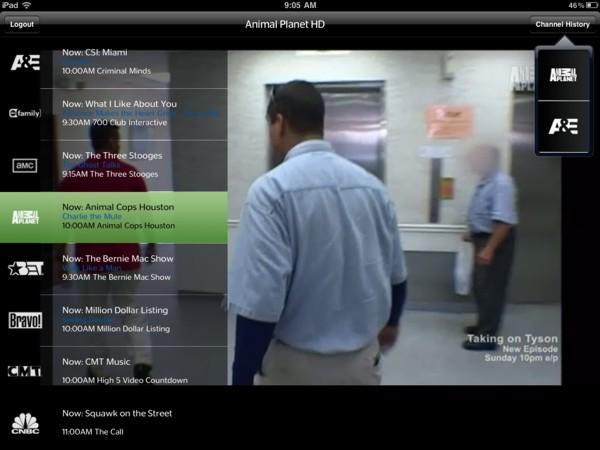 Time Warner Cable recently introduced an innovative iPad app that allows subscribers to access live TV channels on everyone's favorite tablet. But a hostile response from content owners has forced the cable operator to sharply reduce the number of available channels.
It was (and still is) a beautiful idea. TWC subscribers who buy both TV and internet services get access to the app. It grabs a router wi-fi signal and displays channels without having to record them. Unlike Slingbox, it works only within the home. Not such a threat to Hollywood, right?
Hollywood demurs. Fox has already issued a cease and desist letter and other studios have threatened legal action.
The channels being yanked include Animal Planet, Black Entertainment Television, Country Music Television, Comedy Central, Discovery Channel, FX, MTV, National Geographic, Nickelodeon, Spike, and VH1.
In a statement, TWC says "we have decided to focus our iPad efforts on those enlightened programmers who understand the benefit and importance of allowing our subscribers—and their viewers—to watch their programming on any screen in their homes. In the meantime, we will pursue all of our legal rights against the programmers who don't share our vision. The enthusiasm of our customers and the programming partners who have embraced the app, rather than those who are solely focused on finding additional ways to reach into wallets of their own viewers, has convinced us more than ever that we are on the right path. We will continue to fight to ensure that our customers have access to the content they pay for, no matter which screen in their home they choose to view it on."
Following this announcement, TWC added a bunch of new channels to the app, presumably with the blessing of their owners, who include Disney and NBC Universal. The new channels are A&E, ABC Family, AMC, Bravo, CNBC, CNBCW, CNN, CSPAN, CSPAN2, CSPAN3, Chiller, Disney, Disney XD, E!, ESPNnews, Food, G4, Gala, HGTV, HLN, Hallmark, History, HSN, IFC, Jewelry, LMN, MSNBC, QVC, Sleuth, Soap, Style, Syfy, Golf, Travel, USA, and We. Also added were some channels whose availability is "based on user channel entitlements," which probably means they're local, they include NY1, NY1Noticias, and YNN Austin.
How do you like Time Warner now?
See TWC's Untangled blog on the channels yanked and added. There is also a dedicated website for the app.
LATEST VIDEO