Toy Story Trilogy 3D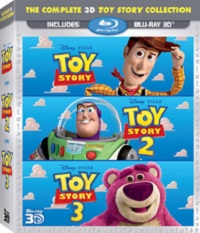 The wizards at Pixar discovered that when left alone, toys come to life. In Andy's room his favorite is Woody, an old-fashioned cowboy doll whose status is usurped when Andy is given the latest and greatest space toy, Buzz Lightyear. With the social dynamics thrown into chaos, Woody and Buzz end up in the clutches of any toys worst nightmare—Sid, the crazy young lad next door who loves to blow things up.
In Toy Story 2—arguably one of the greatest sequels of all-time—Woody is kidnapped by a greedy toy collector who plans to complete his collection of the "Woody's Roundup" gang and sell them to a museum in Japan for big bucks. Buzz and the gang come to the rescue and remind Woody what being a toy is about.
Screen writer Michael Arndt somehow captures lightning in a bottle for a third time by taking our heroes and mixing them up with a new cast of characters. As Andy prepares to leave for college, his mother asks what he wants to do with his old toys. When they accidentally end up in day care, Woody and Buzz must help the old gang escape from the toddlers play palace and the evil pink teddy bear Lotso in order to get back home before Andy leaves town.
Pixar started in 1979 as the computer graphics division of Lucasfilm, George Lucas would eventually sell it to Steve Jobs in 1986 after the computer pioneer was forced to resign from Apple. Jobs renamed the company "Pixar" and its business struggled for almost nine years with a string of short films that mostly flew under the radar. But on November 22, 1995, Jobs and company changed the movies forever when Toy Story hit theaters. Not only was the film a technological achievement, it was a box-office smash with $362 million in worldwide receipts and it created two of the most iconic characters in movie history—Woody and Buzz. Who would have thought that two computer animated characters would have more life in them than many of the "real" actors that we see on the screen every day? Granted, having the voice talent of Tom Hanks and Tim Allen doesn't hurt, but Pixar didn't fall victim to the technology and seemed to concentrate as much on character development and the audience formed an emotional attachment to the toys that would make Pixar one of the most successful film companies in history.
Although all three films made their debut on Blu-ray in 2010 you knew that they would eventually be released in 3D in order to give early adopters something to watch on their new displays. Fortunately, the conversion from 2D-3D on computer animated films works out much better than converting a live action film since it's relatively easy to add second offset virtual camera in order to create the 3D effect. So, how do they look?
Watching them in order, each film gets progressively better with added texture and depth. While the foregrounds look great, the level of detail in the backgrounds improves in each successive film offering a more realistic and inviting 3D environment. Areas where all three films excel are how each character comes to life with the roundness of their faces, how appendages reach through the screen into the room, and the vibrant colors that leap off the screen. But as good as the first two films look in 3D, neither of them can match the perfect transfer of the third film. The virtual world comes to life and is so inviting you'll have to resist the urge to get off the couch in order to save Woody and the gang from the deadly incinerator.
The superlative audio tracks found on the 2D versions of the films aren't affected one bit with the 3D transformation. Creative sound design certainly helps with a plethora of discrete effects coming from every direction, limitless dynamics, and oh that wonderful bass! Whether it's the sounds of the arcade in Pizza Planet, Buzz infiltrating Emperor Zurg's underground layer, or the toys facing certain annihilation at the local dump, each film offers its own assortment of demo-worthy moments.
The films boast the same supplements at its 2D counterpart and include both the 2D and 3D versions on Blu-ray, a DVD and Digital Copy for portable devices. The assortment of Blu-ray 3D discs is still relatively small but if you're looking for new material to showcase your 3D display, these gems from Pixar deserve a place in your collection.
Ratings
Toy Story
Picture:5/5
3D-Ness: 4/5
Sound: 5/5
Extras: 4/5
Interactivity: 3/5

Disc Specs
Studio: Disney/Pixar, 1995
Aspect Ratio: 1.78:1
Audio Format: DTS-HD MA 5.1
Length: 81 Min
MPAA Rating: G
Director: John Lasseter
Starring: Tom Hanks, Tim Allen, Don Rickles

Ratings
Toy Story 2
Picture:5/5
3D-Ness: 4.5/5
Sound: 5/5
Extras: 4/5
Interactivity: 3/5

Disc Specs
Studio: Disney/Pixar, 1999
Aspect Ratio: 1.78:1
Audio Format: DTS-HD MA 5.1
Length: 92 Min
MPAA Rating: G
Director: John Lasseter
Starring: Tom Hanks, Tim Allen, Joan Cusack

Ratings
Toy Story 3
Picture:5/5
3D-Ness: 5/5
Sound: 5/5
Extras: 4.5/5
Interactivity: 3/5

Disc Specs
Studio: Disney/Pixar, 2010
Aspect Ratio: 1.78:1
Audio Format: DTS-HD MA 7.1
Length: 103 Min
MPAA Rating: G
Director: Lee Unkrich
Starring: Tom Hanks, Tim Allen, Joan Cusack