Toshiba HD-XA1HD DVD Player
HD DVD is finally here, and although there are a few ergonomic bumps on this yellow brick road of HD, the emerald city of next-gen sound and vision is unequivocally glorious. Simply put, HD DVD delivers on its promise of the best picture and sound that I've yet experienced outside the movie theater.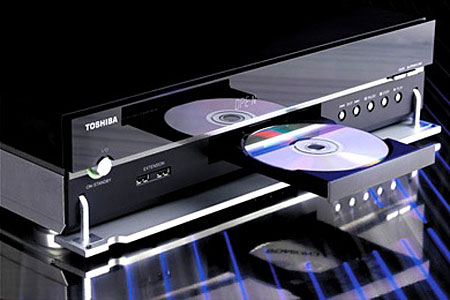 To introduce me (and by extension you) to the HD DVD format Toshiba did me a solid and sent over the step-up, $799 HD-XA1 player, which has been shipped to select retailers in very small quantities.
A Slick Package
The HD-XA1 is a very slick-looking, substantial machine that is a heavyweight by today's DVD player standards, tipping the scales at nearly 20 pounds. Hearkening back to the DVD format's launch, we didn't see a machine this aesthetically compelling and physically imposing until Sony unveiled the DVP-S7000 late in the first generation of players (and for those keeping score at home, its retail price was over $1000, nearly a decade ago!)
The XA1's top is black with the bottom half of the front panel and sides clad in silver, making for an attractive two-toned look. The silver piece on the front panel is actually a drop-down door that hides the disc tray, a basic set of playback controls, and two USB extension ports for "additional features may be supported in the future." Ditto the Ethernet port on the backside of the player. But Toshiba was very firm in telling me that an Internet connection will never, ever (read my lips) be required to watch copy-restricted discs. More on that in a bit.
On the back panel is a single HDMI port, one set each of component video outputs, 5.1-and two-channel analog audio outputs, and coaxial and Toslink digital audio outputs. There are even composite and S-Video outputs! With all the computing power required to manipulate HD video, high-res audio and next-gen interactivity, a fan is needed to keep things cool. A power inlet is provided, allowing connection of a detachable AC cord rather than those chintzy, non-detachable, thinner cords that some DVD players ship with. A step-up feature from the $499 HD-A1 is the RS-232 interface for custom control devices like Crestron or AMX.
Aside from the exterior styling, the only other easily discernible difference between the XA1 and the less expensive HD-A1 is the remote control. Sort of. The XA1's remote is essentially the same, but with vibration activated backlighting, which is indeed a nice touch. An amusing aside about the remote being activated from vibration and not motion is that when the subwoofers start woofing, even with a concrete slab floor in my theater room, the remote lights up here and there. Rumble young man, rumble!
According to those in the know, the HD-A1 and HD-XA1 share all the critical components, including the transport, audio and video DACs, and the CPU, RAM and SHARC DSPs that handle the lion's share of the processing. The HD-XA1 boasts a slightly upgraded power supply and upgraded analog audio circuitry that more than likely won't benefit those who don't use the analog audio outputs. So, when weighing the two players think about how much you want that cool drop-down door on the front panel and the backlit remote. And think real hard, because the remote does go from bad to awful sans backlighting.
What's Going On In There?
Reports have blasted around the web that the Toshiba HD-A1 is more or less a computer in a standalone disc player's clothes. The HD-A1 and the HD-XA1 are identical in this regard, and in fact both machines are built from an Intel Pentium-4 CPU with a computer-grade HD DVD drive. Insight Media's Display Daily News service has reported that the processor used here clocks at 2.5Ghz, and that the Toshiba players are loaded with 1GB of DDR RAM.
Subsequent generations of HD DVD players will undoubtedly be built on integrated circuit solutions that won't require building a PC inside the player. And it's also quite possible that the more expensive Blu-ray players are being be built on more advanced processing solutions. In the meantime, as you'll read below, it quacks like a duck too. In other words, the HD-XA1 (and HD-A1) is built like a Windows PC and sometimes acts like one, requiring warm and cold reboots on a more frequent basis than anyone is likely to enjoy. The only thing missing is the Windows blue screen of death!

Between the demands of processing high-def video and high-res audio, and the enhanced next-gen interactivity and copy protection "features," these players require computing horsepower in line with a desktop PC, whether it comes from integrated circuits or building a PC into the player. The density of information that must be processed on HD DVD discs is many times greater than that of DVD in every way: the 1920x1080 pixel count that is prevalent on HD DVD is six times the number of pixels on a standard def DVD! And while the video encoded on the discs we've seen so far is 1080p, the players output only 1080i, which requires interlacing the 1080p video and performing 3/2 pulldown on the fly.
As TJN noted in his first look at the HD-A1, converting the 1080p signal on the disc to 720p in the player results in an image that looks noticeably than standard def DVD.

(I was told by a reliable Toshiba source that their players scale down before scaling up when converting the 1080p on a disc to a 720p output. By my reckoning, that means conversion of the 1080p/24 native on all current releases to 1080i/60, converting that to 540p, then upconverting the 540p to 720p. In any case, Toshiba's recommendation is to set the player's output to the native rate on the disc, meaning 1080i for 1080p discs (which includes all current titles since there is no 1080p option on the player), and 720p for any future 720p discs—TJN)

Both players, however, do an outstanding job of upconverting standard DVD to 720p and 1080i; the HD-XA1is among the best I've seen in that regard. Part of Toshiba's plan and pricing is to offer a player that's an upgrade for playing the existing library of DVDs. And at least in terms of pure performance, they've succeeded.

In addition to high pixel density video, HD DVDs are also encoded with soundtracks that are at much higher bitrates than current DVDs. Although we can't confirm this, our sources at Toshiba claim that the Dolby Digital Plus soundtracks on some of these first HD DVDs are encoded at 1.5Mbps. This is not only far more information than the 384kbps we typically see with standard Dolby Digital on DVD, but DD+ is also claimed to be twice as efficient as its predecessor at equivalent data rates.

And this is only the start- Dolby Digital Plus is spec'd to operate as high as 3Mbps on HD DVD, and Dolby's lossless format, Dolby TrueHD (based on Meridian Lossless Packing), will go even higher. And DTS matches Dolby tit for tat with lossy DTS-HD High Resolution at higher bitrates and a lossless coding format dubbed DTS-HD Master Audio. Thus far neither DTS HD High Resolution of Master Audio have been used on any production discs we've seen. The HD DVD format is capable of 36Mbps total throughput, so the ceiling is high.

In addition to the soundtracks themselves, HD DVD players generate their own sound effects to aid navigating disc menus, and have the ability to "mix" commentaries from the disc or even from the Internet, and all these elements must be mixed with the movie soundtrack elements during playback by the player. Since this can't be performed by processing compressed Dolby Digital Plus bitstreams, the DD+ track is converted to PCM, and the audio "mixing" is performed in the PCM domain by the player.