Toshiba Bows No-Glasses 3DTVs
Toshiba's glasses-free 3DTVs will make their Japanese debut at the end of December. Availability for the U.S. and other markets remains unknown at presstime.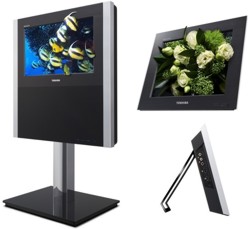 Japanese consumers will have their choice of two small screen sizes, 12 inches (120,000 yen, or roughly $1440) to 20 inches (240,000 yen, $2880). A more home theater worthy 56-inch prototype was also displayed but was not announced as official product. Toshiba says the ideal screen size for its passive 3D technology is 40 inches. In addition to these new passive 3D models, Toshiba will continue to sell 3DTVs that use active shutter glasses. The news came at Tokyo's CEATEC, a large CE trade show, the Japanese equivalent of CES in the U.S.
Toshiba is using an autostereoscopic technique. A display with four times current HD resolution is covered with a lenticular sheet that directs separate images to each eye. A Cell processor, codeveloped by Toshiba, renders nine images from a single 2D frame in different perspectives (or parallaxes). The brain then superimposes them to generate what is perceived as a 3D image.
According to Toshiba, its passive 3DTV technology "offers a wide viewing area in front of the display and allows movement of the eyes and head without disrupting the 3D image and without the discomfort sometimes associated with other 'glasses-less' 3D technologies."
See Engadget HD with press release, and further writeups in The Wall Street Journal and The New York Times.
LATEST VIDEO