Toshiba BDX2700 Blu-ray player Page 2
The BDX2700 offers internal decoding of Dolby TrueHD and DTS-HD Master Audio and sends both via HDMI as PCM to an A/V receiver or surround processor. If you have a new AVR that offers onboard lossless audio decoding, the player can send the raw bitstream. When I compared the two options, I didn't notice any difference in audio quality, although you do lose the secondary audio with PiP commentaries and the clicks and beeps in Blu-ray menus with bitstream.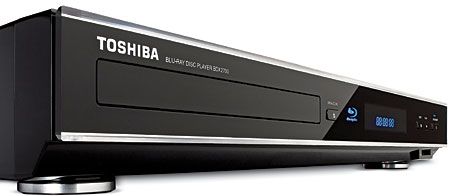 ,p. Stream Away
Unlike Toshiba's first-generation player, the BDX2700 is loaded with value-added streaming services from Netflix, Blockbuster On Demand, Pandora, and my personal favorite, VUDU. As you're probably aware, Netflix is a subscription-based service with thousands of titles available for streaming. While many Netflix streams are in 720p HD, its Achilles heel is that the audio is limited to stereo. Blockbuster's service doesn't have a monthly subscription fee, and you can rent standard-definition movies for $3.99 each. You can even purchase them for $12.99 to $22.99 each, but for that price, you may want to hop in the car and venture to your nearest Best Buy.
Like Blockbuster On Demand, VUDU is a pay-as-you-go service, but it's a much better value. First, you can rent its standard-definition movies for as low as $1 each, with 720p titles for $4, and $6 for a full HD experience in 1080p video and Dolby Digital Plus 5.1 soundtracks (640 kilobits per second). In order to enjoy the highest quality, you need to have a minimum 4.5-megabit-per-second Internet connection, which shouldn't be much of an issue these days. Additionally, there are more than 100 VUDU apps that include Facebook, Twitter, Rotten Tomatoes, news and sports feeds, and many more. And at a great price—free.
Finally there's Pandora, an Internet-based music service that offers a limitless supply of music from any genre that fits your mood. The service performs a comprehensive analysis of your musical tastes based upon your favorite songs and finds other tunes that you'll most likely enjoy. Other Blu-ray players released in 2010 have included DLNA compliance for sharing and streaming files over a home network. The BDX2700 lacks this, but I didn't miss it.
User Interface
The included non-backlit remote is on par with other Blu-ray players I've reviewed this year—virtually useless in a dark room. The layout is well organized once you learn where the buttons for the most important functions reside. Sadly, Toshiba is one of the only manufacturers I know that doesn't offer discrete on/off commands for its devices, so if you use a universal remote with an All Off command, you'll have to work around this inconvenience.
When you power up the player for the first time, a simple setup screen asks you to set the video resolution and aspect ratio of your display. In the audio setup, you can choose to send the raw bitstream over HDMI, decode in the player as PCM (required for BonusView PiP commentaries), or set up the analog outputs by choosing speaker size (Large or Small) and the crossover frequency for the subwoofer. If you're using the multichannel analog outputs, you'll have to rely on your AVR or surround processor to apply time delays since the Toshiba doesn't include any (neither do many AVRs or surround processors at their multichannel audio inputs). Finally, there's the Web configuration (wireless or wired). The BDX2700 found my wireless network and easily paired with my router. However, I chose to use a hard-wired connection for my testing since the reception of wireless signals at my equipment rack is spotty at best.
I've been using the player for nearly two months, and there hasn't been any need to update the firmware. According to the manual, the player will reach out to Toshiba's servers and periodically search for an update. If available, it will ask you if you'd like to update and then inform you when it's complete.
You can access and configure the streaming options in the Connected section of the user menu. Netflix access includes the latest version of its application. Its tabbed interface offers a wide variety of titles including new arrivals, comedies, TV, and more. You can either add these to your Instant Queue or immediately stream them. While there isn't a search function like the one that the PS3 now includes, each tab offers more than 100 different titles to choose from without having to venture onto your computer to find something to watch.