Toshiba 55WX800U 3D LCD HDTV
Price
: $3,300
At A Glance
: Vivid picture with outstanding resolution • Solid 3D performance • Skewed color and gamma
3D Pictures, Ultra-Thin HDTV
LEDs and 3D. Add in Internet connectivity, Wi-Fi, and an ultra-thin panel, and you have the mix that matters in today's HDTV market. That also describes Toshiba's new 55-inch 55WX800U. Together with its smaller sibling, the 46-inch 46WX800U, it makes up Toshiba's current 3D lineup.
Referring to a set such as this as an "LED TV" is not particularly accurate, although Toshiba isn't the only manufacturer that uses this terminology. The picture is still produced by an LCD panel. LEDs are used for the backlighting required in all LCD designs.
There are two basic types of LED backlighting: behind the screen—sometimes with local dimming—and edge lighting, in which a smaller number of LEDs are arrayed at the sides of the set behind the frame. In both cases, diffusers scatter the light evenly (one hopes) across the entire rear of the screen. While edge lighting cannot be locally dimmed as with full-array LED backlighting, it can be modulated dynamically to a limited extent. Toshiba calls its dynamic edge lighting DynaLight.
Around the Horn
At an ultra-thin 1.15 inches, the 55WX800U squeezes a full complement of inputs and outputs onto the side and rear jack panels. Some of these require special (supplied) connectors in order to maintain the set's ultra-thin profile.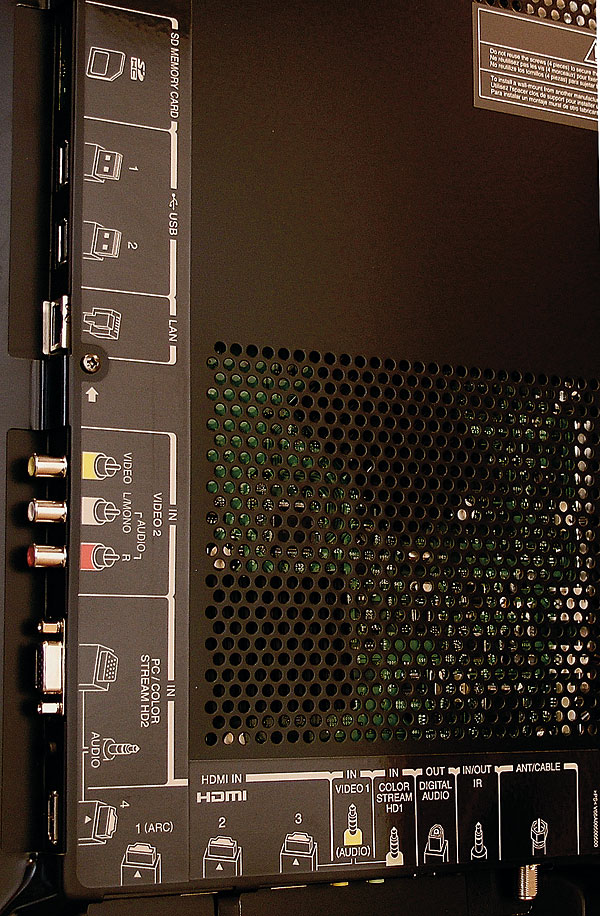 There are seven Picture Modes, and the picture adjustments for each of them are individually adjustable. You may also set them up differently for each input. In certain Picture Modes, some controls are not accessible or are more limited in their range. I chose Movie 1 for most of my viewing.
An Advanced Picture Settings menu includes a number of features. Some of them are more useful than others, and the manual explains most of them poorly (and even inaccurately). DynaLight was definitely useful. Dynamic Contrast and Static Gamma, the latter to be discussed later, not so much. Smart Sensor, with its Backlight Adjustment Pro submenu, and the AutoView Picture mode are designed to perform dynamic, automated adjustments to the picture based on the room lighting and source content. I left all of these robotic assists off.
Resolution+ is said to make SD material look more like HD. That claim may be a stretch and a half, but while I'm normally a purist about such enhancements, this feature can subtly but visibly enhance 480i programming. Just avoid the maximum setting. Resolution+ isn't needed (and does little or nothing) for HD.
Other Advanced Picture options include Color Temperature and ColorMaster. Color Temperature includes several fixed settings, supplemented, in a separate Expert Picture menu, by White Balance calibration controls. The latter offer not only the usual two-point adjustments for red, green, and blue, but 10-point controls as well. ColorMaster, Toshiba's name for its color management system, offers Hue, Saturation, and Brightness adjustments for both the primary and secondary colors.
RGB Filter lets you selectively turn off the red, green, or blue portion of the signal. When used with an appropriate color bar pattern, this feature is the best way to accurately set Color and Tint.
The Toshiba doesn't have picture-in-picture or side-by-side picture modes. The remote, which can operate five other devices apart from the HDTV itself, is backlit but doesn't offer direct selection of inputs.