Toshiba 42LX196 LCD HDTV
If you're willing to step up around $1,100, your LCD options increase dramatically, with plenty of choices from the big names in the TV business. One such option is Toshiba's $2,600 42LX196. The most obvious feature upgrade is the move from 768p to 1080p, but that's not all this TV brings to the table. It boasts a well-rounded features list to suit a wide variety of setup needs.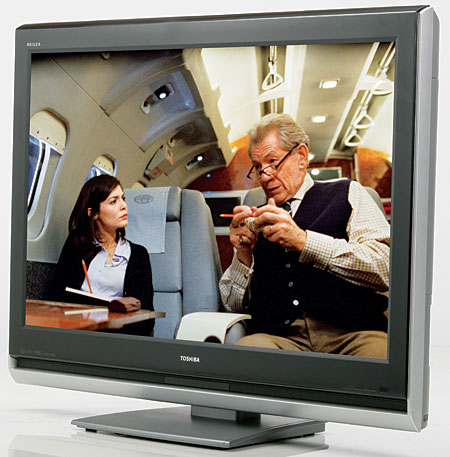 Like our budget entry, the 42LX196 has two HDMI, two component video, and one RGB input, but it adds a second RF input so you can tune both antenna and cable signals. This TV includes a basic QAM tuner instead of the Clear QAM type, but it's the only TV in the roundup that offers a CableCARD slot and the TV Guide On Screen program guide, with a G-link port to control your cable box, if desired. During the channel scan, the 42LX196 doesn't indicate how many channels it finds, and you have to run a separate scan for each RF input. But adding and deleting channels is a simple process. Each time you change channels, a handy signal meter flashes onscreen, along with the general channel/program info, to tell you how strong that channel is. The digital connections run along the bottom panel, but the analog ones are easily accessible in a recessed chamber along the right side, behind a removable plastic panel.
Toshiba recently redesigned their TV remote controls, switching the volume and channel buttons to match the industry standard and replacing the annoying buzzing blue backlight with amber and white lights. The remote lacks dedicated input buttons and advanced POP controls, but it does include buttons to directly access two of the 42LX196's more interesting features: Channel Browser and THINC. The Channel Browser is a nicely conceived navigation bar that lets you easily scroll through channels and inputs to see what's playing, set favorites, see recently viewed items, and more. THINC stands for Toshiba Home Interactive Network Connection. Through the Ethernet port on the back panel, you can link this TV to your home network to access MP3 and JPEG files stored on a Windows 2000 or XP PC. You can even give this TV an e-mail address and send yourself program reminders.
The 42LX196 provides six aspect-ratio options to accommodate just about any viewing preference, including a native mode for displaying 1080i/1080p sources without any scaling. Automatic aspect-ratio detection, one of my favorite perks, is on board, as well.
As for picture adjustments, the 42LX196 has three preset picture modes, a Preference mode that you can adjust for each input, three color-temperature choices, and an adjustable backlight in increments from 0 to 100. This set, too, includes advanced picture controls like dynamic contrast, noise reduction, and a vertical edge enhancer, but it ups the ante by giving you individual color management of red, green, blue, cyan, magenta, and yellow. I experimented with the blue color after discovering that I couldn't get the Video Essentials SMPTE color-bar pattern to look quite right using the general color control. Take care, though: You can do more harm than good with these controls if you don't know what you're doing.
Even in the Warm color-temperature mode, the display averages a very blue 8,300 Kelvin out of the box. After calibration, though, it tracked closer to 6,500 K than any TV in this roundup, so we recommend that you have this TV professionally calibrated. The red and blue color points are very good; green, meanwhile, is slightly off, but not in the typically exaggerated way that can cause grass and other greens to look cartoonish.

The 42LX196 has both film and video processing modes. Through the component video input, video-based signals looked fairly clean in video mode. In film mode, the deinterlacer is slow to pick up the 3:2 sequence, so the opening seconds of our Gladiator test scene had noticeable artifacts until it locked the sequence. You may want to invest in a good progressive-scan DVD player. If you plan to use HDMI, the Gladiator sequence had minimal artifacts when upconverted to 1080i through our Toshiba HD-XA1 HD DVD player.
The 42LX196's 699:1 contrast ratio is better than many LCDs we've tested but wasn't as good as the other TVs in this roundup. We obtained that number at the TV's brightest backlight setting, which produces a high black level of 0.178 foot-lamberts. The minimum backlight setting cuts light output substantially but offers a respectable black level of 0.049 ft-L. The viewing angle is more of an issue with this TV than with the others in the roundup. If you move even 45 degrees off axis, the saturation drops off, so you should give more thought to where you place this TV. It may be better suited to a bedroom, where you're less likely to view it from many angles—well, depending on what you do in your bedroom, I suppose.
Resolution isn't where it needs to be to exploit this panel's 1080p nature. As you can see in the measurements box, it didn't measure out to the limit with 480p, 720p, or 1080i content, and 720p came in especially low. I don't think it's an accident that, in the owner's manual, Toshiba lists 720p as the last "suggested" resolution for both the component and HDMI inputs; you should stick with 1080i for high-definition sources.
Because high-frequency noise can be more noticeable on a 1080p panel, Toshiba may have made a conscious decision to roll off the highest frequencies to render a cleaner picture. Combine this with the fact that the TV doesn't accept 1080p sources through HDMI, and you aren't getting much return on that 1080p upgrade. However, adding a good bit depth helped the 42LX196 render the smoothest black-to-white transitions in this roundup, and the result is a clean, nondigital-looking picture.
The 42LX196 may not be the ideal home theater HDTV, but it's a consistent performer that does a solid job with HD and SD sources. Its many input options and THINC system make it a great choice for someone looking for a versatile, big-screen multimedia TV.
JH and GM Comment
Compared with the other displays—especially the Sony—the main thing about the Toshiba that stood out was its apparent lack of color accuracy. While the Sony has very accurate color, the Toshiba seems to give everyone sunburns. Admittedly, if the sets were not sitting next to each other, the problem would not have been as noticeable.—JH
What's with Toshiba and exceedingly high color temperatures? Fine, it's that way out of the box, but why does Warm have to be 8,300 K? I thought the industry had gotten over this years ago. With the extra resolution not being as apparent, the extra $1.1k (really, $1,400 after a required calibration is included) over the Vizio seems better spent elsewhere. That said, it's a lot more natural looking and pleasing to watch than the Vizio.—GM
Highlights
• THINC system provides access to MP3 and JPEG files
• Great color temperature after calibration
LATEST VIDEO