Toshiba 32HLX95 LCD HDTV
It's all inside.
So you've saved up your pennies and are ready to buy a swanky new 32-inch LCD HDTV. You've picked out the perfect place on the wall to mount the TV; its streamlined aesthetic complements your room's clean lines and minimalist approach. Before you head to the local retailer, ask yourself one important question: Have you also picked out the perfect place to put all of those clunky boxes that feed signals to your flat-panel beauty?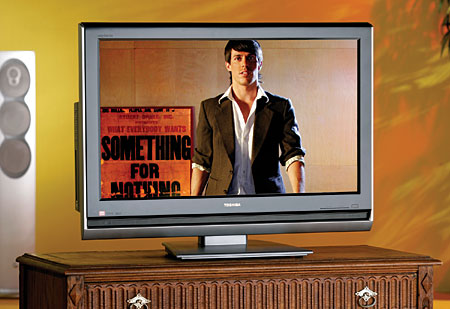 While speaker manufacturers trip over themselves to design the perfect flat-panel-friendly speaker system, source and electronics manufacturers, for the most part, continue to live in a square-box world. "What, people want DVD players that match their LCD? OK, just make the box silver."
This may not be much of an issue in a home theater or a living room, where you probably have a nice equipment rack or a cabinet in which to hide components. But what about the rest of the house? As nice as it might be to have a dedicated HT system in every room, some of us just don't have the space. . .or the pennies. What good is a beautifully slender, space-saving flat panel in your bedroom if you need a bulky cabinet to store a cable box and a DVD player?
Toshiba has a simple solution. Just remove the need for external sources by putting everything inside the TV. The new 32HLX95 features a built-in DVD player, a CableCARD slot, and ATSC and NTSC tuners that use the TV Guide On Screen program guide. Add in the pair of speakers mounted along the bottom panel to give the TV an even smaller footprint (or wallprint, as the case may be), and there's no need to connect any extra boxes if you don't want to.
Reaching Out
Of course, should you want to connect external sources, the 32HLX95 has ample inputs to accommodate, including one HDMI, two component video, and one D-Sub 15-pin connector that allows your TV to double as a computer monitor. My main ergonomic gripe is that Toshiba has positioned the HDMI and D-Sub connectors right next to each other on the bottom panel. It's difficult to get even one cable in there, let alone two at the same time—and, if you have DVI-equipped sources, forget about using a DVI cable with an HDMI adapter. Mine didn't fit.
HDMI and component video had fairly similar picture quality, with perhaps a slight edge in HDMI's favor. As you'd expect from an LCD, the 32HLX95 has excellent light output. It also has an adjustable backlight that allows you to raise or lower the black level in increments from 0 to 100 for each input. At the default, 100, which provides the best overall contrast ratio, the black level is just an average 0.160. Lowering the setting to 0 yielded a much more respectable number of 0.064. Both of these numbers go up quite a bit when you move off axis, though, so you should be mindful of where you place the TV. However, the included stand does swivel to help with placement options.
Color and detail are quite good; both DVD and HD images looked wonderfully rich. For each input, you can select from four picture modes (Sports, Standard, Movie, and Preference) and three color-temperature settings (Cool, Medium, and Warm). I used the Preference mode in order to manually adjust the brightness, contrast, color, and tint using Video Essentials' test patterns, and I preferred the Medium color temperature out of the box. For our measurements, we used the Warm color-temperature setting, and you can see that it is much higher than D6500 Kelvin out of the box. However, it tracks very close to the standard after calibration.
The TV offers two processing modes—Film and Video—but the performance difference is minimal. When used in conjunction with an external DVD player, the TV picked up the 3:2 sequence in film-based test signals, albeit a bit more slowly than I'd like. With video-based test signals, the player did an excellent job, producing only minimal artifacts in both test discs and video-based DVDs. The MPEG-noise-reduction feature visibly reduced the amount of interference caused by MPEG compression in DVDs, and standard-def signals looked better than average through the component video input.
Last but not least, I tested the TV's ability to re-create all of the luminance steps between black and white. Video Essentials' light-to-dark quantization ramp revealed one large jump in darker grays, as well as noticeable lines across the ramp. Its performance was similar whether I used HDMI, component video, or the internal DVD player. The result is a good deal of digital noise and flicker in grays, blacks, and darker colors. My dislike of a digital-looking picture has been well documented in these pages, but I found it difficult to make any sweeping indictments of this particular LCD. At times, the quantization was so blatant, it removed much of the detail from background textures and transitions. However, some DVDs that other digital displays have struggled with, such as the Firefly pilot, looked surprisingly clean. I suppose the best way to describe this TV is to say that the image isn't as consistently noisy as other digital displays I've reviewed, but the instances of digital noise are often much more pronounced when they do occur.
Turning Inward
But enough about those pesky external sources. Who needs them? (Well, anyone with satellite TV service, but besides them. . ..) Digital cable subscribers can feed HDTV and SDTV directly into the TV via the CableCARD slot, while the dual RF inputs let you tune in unencrypted cable or over-the-air HDTV and SDTV. I used Terk's HDTVi indoor antenna to tune in HDTV. The channel scan was slower than those of many HDTVs I've reviewed as of late, and the onscreen display doesn't tell you which or even how many channels it finds during the process. Still, the Terk/Toshiba combo successfully picked up all of the major HD channels in my area, and the signal was nice and steady. You can use TV Guide On Screen to find content, and Toshiba has included A/V outputs to connect the TV to a DVD recorder or VCR, as well as a G-link IR blaster connection if you have to use an external cable box and want to change channels.
On the TV's left side panel, you'll find the vertical, slot-loading DVD tray, plus transport controls like play, pause, and chapter skip (all of which also reside on the remote). With test DVDs, the player's detail measured about 460 lines per picture height, and it benefits from the above-average processing I already described.
In the first review sample I received, the internal player was incorrectly set up for a 4:3-shaped screen. I didn't notice this immediately, because the 32HLX95 has automatic aspect-ratio detection (hurray!) to ensure that it shows each source in its correct shape. But I quickly realized that the TV was squishing anamorphic DVDs into a 4:3 window and then zooming in on them to fill the screen, which makes for a soft picture filled with artifacts. Toshiba kindly sent me another sample (manufactured in November, a few months after the first one), in which the problem had been remedied. The internal player's image quality was essentially identical to that of external sources. Audio from the internal speakers isn't terribly robust, but it gets the job done. If you plan to use a receiver with this TV, the digital audio output on the back panel lets you transmit Dolby Digital 5.1 and DTS signals from the internal DVD player and tuners.
You'll need to save up a few more pennies to buy the 32HLX95, as its $2,500 MSRP puts it at the higher end of the LCD HDTV category. However, if you put a premium on the aesthetic benefits of a flat panel, this TV lives up to that promise better than most. Toshiba has freed us from the need for clunky source components. Now, if only they could figure out how to remove all those cables from the equation.
Highlights
• Internal DVD player and ATSC tuner, plus CableCARD
• Good light output and an adjustable black level