Top 10 Streaming Services: Can You Rank Them?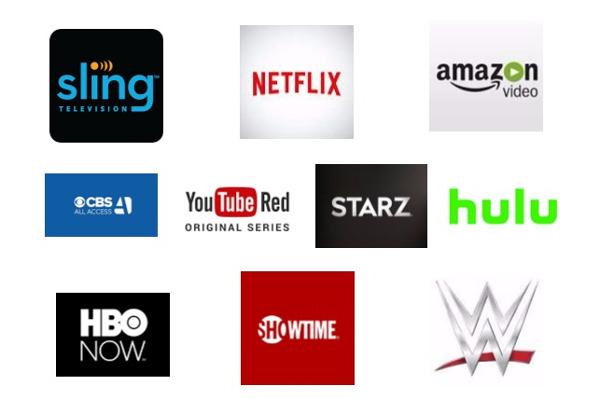 HBO Now, Starz, and Showtime moved up in the recently updated 2017 top 10 list of U.S. streaming services while Netflix, Amazon, and Hulu continued to hunker down in the top three slots.
The 2017 ranking, compiled by the Dallas-based research firm Parks Associates, is based on the number of subscribers. HBO Now was singled out for a significant move into the top five and YouTube Red for its debut on the list along with the movie streaming service Starz.
Showtime and CBS All Access each made gains moving up one slot — from No. 9 to No. 8 and No. 10 to No. 9, respectively.
Dish Network's Sling TV slipped four slots moving from No. 6 to the bottom of the list (No. 10) and World Wrestling Entertainment (WWE), which claimed the No. 5 spot in 2016, dropped off the list along with Crunchyroll, which claimed the No. 8 spot in 2016.
Major League Baseball (MLB) continued to lead in sports-related subscription services, followed by WWE, which was ranked just outside of the Top 10, according to Parks.
Here's the updated 2017 ranking (2016 rankings are noted parenthetically):
1. Netflix (1)
2. Amazon Video (2)
3. Hulu (3)
4. MLB.TV (4)
5. HBO Now (7)
6. Starz
7. YouTube Red
8. Showtime (9)
9. CBS All Access (10)
10. Sling TV (6)

With more than 200 streaming video services available in the U.S. today, making the Top 10 list is an accomplishment at a time when more than one third of U.S. broadband households subscribe to multiple streaming services and nearly 90 percent of streaming services offer some type of subscription option, according to Parks.
"While the top three are no surprise, the big story over the past year has been the rapid subscriber growth for OTT (over-the-top) video services from HBO, Showtime, and Starz," said Brett Sappington, senior director of research, Parks Associates. "The combination of recognized brands and popular original content is driving demand for their offerings. Services such as Sling TV and Crunchyroll are still enjoying strong growth, but other services have simply grown at a faster rate over the past year."
Sappington noted that online pay-TV services are also growing quickly, fueled by nationwide advertising campaigns. "YouTube TV's advertising and sponsorship deal with MLB during the recent World Series is just one example of the marketing dollars behind these service offerings," he said. "While more online pay-TV services could enter the top 10 within the next year, those services that comprise the top 10 are recognized brands that are aggressively working to expand their subscriber bases. Displacing them will be a difficult task."
Parks also noted that OTT services are partnering with each other for distribution and bundling, service promotion, improved brand awareness, and content licensing.
"Consumers have a variety of choices and are increasingly self-aggregating multiple OTT video services," Sappington said. "As a result, partnerships within the OTT space are becoming more common, as operators, content owners, and OTT service providers all look to gain an edge in attracting subscribers and generating buzz for their offerings."