TiVo Premiere DVR Page 3
Many of the functions from the Series3 have migrated to the new platform. These include the ability to access photos and music from your home network (with the installation of TiVo Desktop software on your PC or Mac), schedule programs via TiVo's Website on any computer or Web-enabled wireless phone, and TiVoToGo, which lets you take your favorite shows with you on a portable device or laptop. The online scheduling is great, especially if you've left town on vacation and forgot to set the TiVo to record a program.
If in the future you discover you're running out of space because you've become a digital pack rat, the Premiere supports a Western Digital 1-TB My DVR Expander. It will set you back $120, but it will give you a total of nearly 200 hours of HD recording. One downfall of using the external drive is that TiVo doesn't treat it as a separate hard drive. It indexes both drives as one large one. So if one drive fails, you can kiss all of your recorded content goodbye.
Recording and Watching
The Premiere lives up to TiVo's past reputation as a first-class time-shifting device. The guide data is rock solid, and I've never missed a recording. I record a lot of live sporting events, and I love that the TiVo asks you whether you want to add additional time to the recording for a live event. There's nothing worse than recording the first 3 hours of an NHL playoff game and missing the final 15 minutes of sudden-death overtime.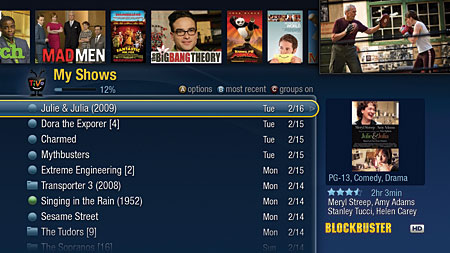 Although the Premiere isn't THX certified, I haven't noticed any difference between its video output and that of my THXcertified Series3. You'll get fantastic results if you set the video recording to Best, especially for OTA broadcasts.
I really like the convenience of Netflix's streaming service and use it frequently on my Series3. If you search for a show on the TiVo and it's available for streaming on Netflix, you can start watching it immediately. I really like how you can watch Netflix content without having to add titles to your queue from a computer.
Given its historically low resolution and poor image quality, YouTube has never been considered couch material, but it's nice that it's there. Another upgrade on the Premiere is that it now supports passthrough of 1080p/24 content from Amazon, although I wouldn't put the quality of the streaming service on the same level as Blu-ray Disc.
The Business Statement
TiVo is a pay-to-play service, so you have to purchase the equipment and pay a monthly fee that runs $12.95 for a month-to-month contract, $129 for an annual plan ($10.75 per month), $299 for three years ($8.30 per month), or $399 for a lifetime subscription. The cable company's DVR will run you about $10 per month, and there's no upfront cost for the equipment.
If you're looking for a long-term investment, the TiVo lifetime subscription starts to pay a dividend after 6 years, with an average monthly cost of $9.70 ($699/72 months), but will it last that long? Hard drives don't last forever, although you can replace them for a nominal cost, so I wouldn't worry too much about catastrophic equipment failure. For a few extra bucks a month, I think it's worth the money to dump the cable company's equipment.
TiVo isn't the only aftermarket DVR to choose from anymore. There's also Moxi (HT, June 2009); its claim to fame is no monthly service fee. The hardware will run you $599 for a three-tuner box with a 500-GB hard drive. Moxi sent me one of its boxes for comparison purposes, and it's pretty slick. Its user interface is just as pretty as the new TiVo interface, but it's much faster and more user friendly.
The Moxi's remote leaves a lot to be desired. It also doesn't include an OTA tuner or any of the streaming options from Netflix, Blockbuster, and Amazon, which will matter more to some users than others.
Conclusion
If you currently own a Series3 HD TiVo, should you ditch your old box and upgrade? I wouldn't yet advise it given the experience I've had so far with the Premiere. The advances of the Premiere's new Discovery Bar, the always-active PiP window, Internet-based search capability, and the muchawaited hard drive space indicator are impressive, but they're offset by the woefully slow user interface. Having that shiny new interface isn't meaningful if you have to run the old-school classic menus to get the kind of speed that users of TiVo's previous DVRs are used to.
If you're looking to ditch your cable company's DVR, the Premiere is worth a look, even if you're purchasing the equivalent of a beta product. I've spoken with TiVo about this issue, and it's stated that it will provide monthly interface updates to improve the user experience, which it prefers to call evolving. It's likely that your cable company will spend a lot less effort to refine its DVR experience over time. Thus far, I've gone through three updates to the TiVo Premiere. There has been slight improvement in the interface speed, but there's still a good way to go. Future updates promise the ability to dock items in the Discovery Bar, the addition of a three-column layout to the My Shows screen allowing for better organization of content, and more improvements to the Netflix functionality. Furthermore, TiVo will eventually activate the second core of the processor to speed up the sluggish user interface.
While it's understandable that firmware updates will add new functions or fix minor bugs, I have a harder time justifying the core performance issues, particularly the spiffy new user interface being so slow and clunky. If TiVo's aim was to again reinvent TV, maybe it should have delayed the Premiere's release until every aspect of the new TiVo experience could deliver on that promise.