Titanic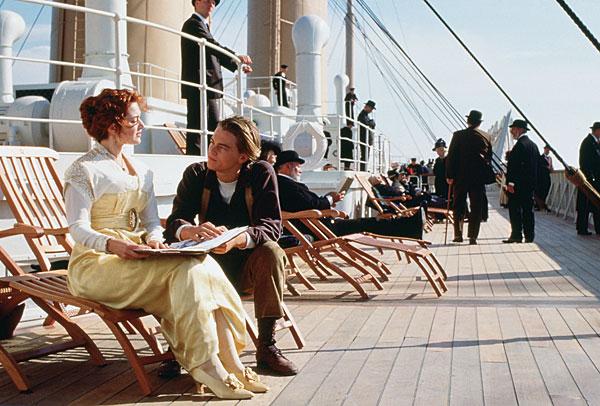 Not one but two Blu-ray 3D platters are dedicated solely to the threehour-plus movie, with no bonus material, for a superior presentation. The high bitrate afforded by this configuration and the switch to a 16:9 aspect ratio for this stereoscopic version yield a jaw-dropping level of detail. It's evident in ancient heroine Rose's (and "young" treasure hunter Bill Paxton's) wrinkles and pores, but more so in the exquisite prints and weaves and stitching of the Oscar-winning costumes. Skintones are rich and lovely, while the enormity of the vessel is magnificently conveyed.
Whereas most 3D conversions are betrayed by a faint line around the actors, who have been digitally isolated from the backgrounds after the fact, Titanic is virtually flawless in this regard. However, actors were often photographed against a green screen so the CGI scenery could be added separately, and this effect is actually a bit less believable now as the characters are pulled forward. There's also some hard ringing where we would expect it (in the glow of submersibles in murky water), and the palpable depth is not always as striking as I'd have liked, but I still consider this the best live-action 3D conversion I've seen yet. The original release version is preserved on disc three, remastered in immaculate two-dimensional 2.4:1.
The use of the surrounds in the DTS-HD Master Audio 5.1 soundtrack is definite but not conspicuous for the first hour or two, but once we hit the iceberg, the sonic mayhem is amped up considerably for the creaking and other noises of Titanic's prolonged death knell. Bass presence is strong, notably in James Horner's musical score, and the lossless encoding assures no evident strain even in screams and shouts.
The extras begin with a trio of different audio commentaries ported from the 2005 special-edition DVD. On disc four are 30 alternate scenes. New for this edition are a four-part retrospective and an even longer documentary in which director James Cameron joins leading experts to study the facts of the tragedy.
Blu-Ray 3D
Studio: Paramount, 1997
Aspect Ratio: 1.78:1
Audio Format: DTS-HD Master Audio 5.1
Length: 195 mins.
MPAA Rating: PG-13
Director: James Cameron
Starring: Leonardo DiCaprio, Kate Winslet, Billy Zane
How do you make a blockbuster film based on the all-too-familiar tale of the doomed luxury liner Titanic? Try giving it a context of modern-day exploration and discovery, weave in a resonant theme of class struggle and the folly of ambitious men, and put at its heart a romance that epitomizes the sweet stupidity of young love. And don't forget to execute it all with an unprecedented technical genius.