Timbuktu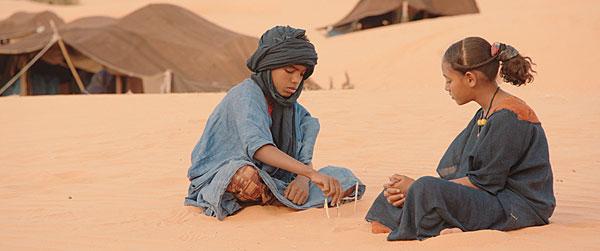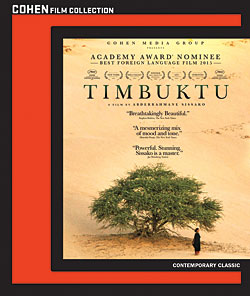 The actors, some professionals, most amateurs recruited from refugee camps, are marvelously natural, their faces glowing with a (perhaps sentimentalized but still captivating) grace. The director, Abderrahmane Sissako, who grew up in Mali, has a keen sense for striking images and storytelling. The French-Tunisian cinematographer, Sofian El Fani, ekes vibrant colors from a desert and a rug. I first saw Timbuktu at the Angelika in New York City and was struck by how gorgeous it looked.
Cohen Media Group's 1080p transfer captures most of this beauty—the piercing light, the waves of sand, the texture of those rugs—but not all: The colors aren't quite as saturated as the original's; long-shot figures and landscapes are a bit thinner. But if I hadn't seen it in a theater, I would have no complaints.
The extra feature shows Sissako in a very interesting interview at the New York Film Festival.
Blu-Ray
Studio: Cohen Media Group, 2014
Aspect Ratio: 2.39:1
Audio Format: DTS-HD Master Audio 5.1
Length: 96 mins.
MPAA Rating: PG-13
Director: Abderrahmane Sissako
Starring: Ibrahim Ahmed, Abel Jafri, Toulou Kiki
Timbuktu is a film of soaring beauty, sly humor, and urgent sorrow. An Oscar nominee for Best Foreign Film, it should have won if the actual winner, the Polish masterpiece Ida, hadn't. Shot in Mauritania, which stands in for Mali (of which Timbuktu is capital), it unspools the tragic ways in which a peaceful village is robbed of family, tradition, and the stuff of a full life when occupied by armed jihadists bearing the black flag of ISIL. At first, the dissonance seems comical: clueless outsiders, proclaiming a ban on music, soccer, and exposed female flesh, while camels block the roads and the locals lounge indifferent. But as the jihadists take over the courts and prisons, and impose their law unimpeded, life devolves into a stream of indignities, though a few—mainly strong, half-mad women—assert their resistance. The film's pace is slow, its scale small, the wreckage spreading from tent to tent; yet this intimacy captures the horrors more deeply than most newsreels. Yet this is not merely propaganda; it's a portrait of humanity or, in the case of the ISIL chieftains, what happens when fanaticism—perhaps at one time well motivated—drains people of their humanity.