Three Ways to Fill a Rack
What your money buys in budget, moderate, and high-end surround receivers.
At the heart of a typical home theater system is the surround receiver. True, the video display might be the emotional heart of your system—but only if you're willing to settle for tinny sound. You might also go bleeding-edge and ditch the surround receiver for high-end separates, namely a preamp/processor and multichannel amp. In that case, I salute you. But I aim today's homily at the average Joe or Jack or Jill who wants the best surround sound available from a one-box receiver.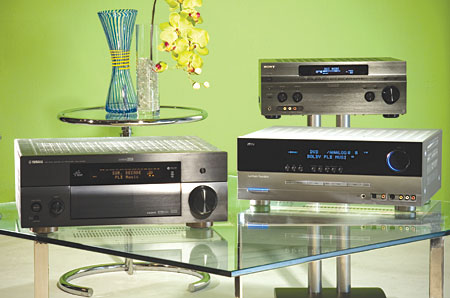 Notwithstanding their pride of place on the system rack, surround receivers don't give up their secrets easily. You have some due diligence ahead of you if you want to figure out what you'll get if you spend a little, and a little more, and even a little more than that. A practiced eye can tell whether an HDTV is worth its price, just as a practiced ear can distinguish great speakers from so-so ones. The wise shopper will also listen to receiver demos if available—and no, they don't all sound alike.
But there's no quick bonding ritual, no shortcut, no easy way out when it comes to reading through Websites and spec sheets feature by feature. Don't assume that every desirable feature appears in every model. And don't assume you even know what you want until you've considered the whole grab bag of potential features.
To give you an idea of what your money will buy, I've put together three representative surround receivers from major manufacturers—all of whom are known for doing a good job in this category. Our subjects include the Harman Kardon AVR 147, the Sony STR-DA3300ES, and the Yamaha RX-V2700. Let me hasten to add that even an average surround receiver nowadays is pretty awesome, especially compared with the very first audio/video receiver, which had only two channels, no surround decoding, and composite video switching. Today's five- to seven-channel surround receiver is the Swiss army knife of home theater.
Note to Blu-ray and HD DVD adopters: Receiver lines are currently in a transitional stage to a new generation of surround codecs and audio connections via HDMI 1.3x (and potentially via older versions of HDMI in some cases). None of the models reviewed here has onboard decoding for the new codecs, which include Dolby TrueHD, Dolby Digital Plus, DTS-HD Master Audio, and DTS-HD High Resolution Audio. However, updated models are in the pipeline from most manufacturers. To somewhat futureproof yourself, upgrade from the models reviewed here to Sony's top-line sibling (STR-DA5300ES) or Yamaha's 2008 successor (RX-V3800), and make sure you select HDMI version 1.3x. The next time we run a receiver roundup, we expect more good news to report in this regard.
For my auditions, I used my Paradigm Reference Studio/20 (fourth generation) loudspeakers and an Integra DPS-10.5 universal disc player.