Thor 3D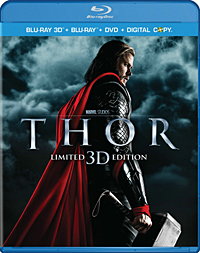 Banished from Asgard by his father Odin (Anthony Hopkins), Thor (Chris Hemsworth) lands on Earth without his all-powerful hammer and must learn humility, compassion, and patience before he's allowed to return home. In his absence, his evil younger brother Loki (Tom Hiddleston) ascends to the throne when their father falls into a coma, and he hatches a plan to permanently stay on top. On Earth, Thor must enlist the help of a beautiful scientist (Natalie Portman) and her team to survive as a mere mortal until he finds a way to return home and stop the nefarious plot.
Of the Marvel adaptations I've seen thus far, Iron Man is the best due to Robert Downey Jr.'s portrayal of the superhero. Hemsworth definitely looks the part with his chiseled physique and rugged good looks, but his acting abilities don't come close to Downey's. Despite his shortcomings, the story has enough action and comedy to keep things interesting, and while it's only average, I did find it enjoyable.
Hollywood is doing everything it can to make 3D a massive commercial success, and it seems to be shooting itself in the foot at every opportunity. This is another non-native 3D presentation that was converted in post production with middling results. Low-light scenes are murky and lack any shadow detail, which isn't an issue with the 2D version of the Blu-ray, and while there are certain scenes that have some added dimension to them, this is certainly no Avatar and won't convince many fence sitters to jump onto the 3D bandwagon (if there is one).
The DTS-HD MA 7.1 soundtrack is absolutely fantastic and delivers the goods in spades. Surround envelopment is first-rate, the LFE channel rattles the windows, and discrete effects fly at you from every direction. Dialog is clear and concise, and the engaging score by Patrick Doyle complements the story well.
The three disc set includes the 3D Blu-ray, 2D Blu-ray, DVD, and Digital Copy. Highlighting the supplements are seven featurettes, an audio commentary with director Kenneth Branagh, 11 deleted scenes, a teaser for the upcoming Avengers, and some trailers.
While the 3D presentation was a tad disappointing, I liked the movie a lot more than I thought I would going in. Sure, the acting is a bit wooden, and the action scenes aren't the most intense I've seen, but the humor in the screenplay made this an enjoyable experience, and it's certainly worth a trip to the local Red Box kiosk for an evening of entertainment.
Ratings
Picture: 4.5/5
3D-Ness: 3/5
Sound: 5/5
Extras: 4/5
Interactivity: N/A

Disc Specs
Studio: Paramount (2011)
Aspect Ratio: 2.35:1
Audio Format: DTS-HD Master Audio 7.1
Length: 114 Min
MPAA Rating: PG-13
Director: Kenneth Branagh
Starring: Chris Hemsworth, Natalie Portman, Anthony Hopkins