That Thing You Do!
First-time writer/director Tom Hanks hit a home run here due to fantastic casting, a captivating story, and one of the catchiest tunes that sounds like it came right out of the '60s. I've seen the theatrical cut of the movie several times over the years, and the extended cut offered on the Blu-ray fixes one of the minor flaws with the original—the characters are given more depth—although at 155 minutes, the pacing suffers as a trade-off.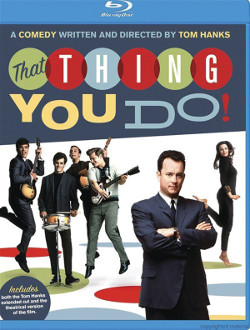 The video quality on the disc is a mixed bag. First, the sharpness wavers from scene to scene with close-ups looking somewhat soft and filtered. Second, there's some obvious edge enhancement that leads me to believe this was the older made-for-DVD master used for the 2007 DVD release. Furthermore, the added footage on the extended release has slightly different color timing and more grain than the stock footage, but only the most anal-retentive viewers may notice.
On the plus side, the audio track is outstanding, especially during the scenes at various concert venues the band plays in. My favorite scene is when the band hears their song on the radio for the first time. Actions on screen start building different layers to the music, and the dynamics pick up steam as more radios are tuned to the station.
One thing you'll learn from the supplements is that the actors played all their own instruments and did all the singing in the movie. In fact, one featurette shows you how the various cast members took a tour to Japan as an actual band! Other gems include how Hanks came up with the story, a closer look at the actual production, and a reunion with the most of the cast.
Blu-Ray
Studio: Fox, 1996
Aspect Ratio: 1.85:1
Audio Format: DTS-HD Master Audio 5.1
Length: 108 mins. (theatrical); 155 mins. (extended)
MPAA Rating: PG
Director: Tom Hanks
Starring: Tom Hanks, Tom Everett Scott, Liv Tyler, Steve Zahn
It's the summer of 1964 and Guy Patterson is back from the Army and working in his parents' appliance store in downtown Erie, Pennsylvania. When the shop closes down for the night, Guy puts on his favorite jazz album and plays the drums to his heart's content. Some old friends have started a band, and when their regular drummer breaks his arm, they come looking to Guy to fill in for a college talent show—which they win thanks to Guy's decision to pick up the tempo in their breakout song. They end up getting a gig at a local pizza parlor and eventually catch the eye of a roving talent scout. Before they know it, their song is on the radio, they're signed by Play-Tone records, and they're off to California.