Theater Automation Wow HD-800 CRT projector
Ever since the days of David and Goliath, the world has rooted for the little guy. In the underdog we invest our imagination and our collective hope: we want him to win—or at least put up a good fight. And every once in a while, the little dog gets to choose weapons that can skew the results in his favor. Such is the case with the newest entry in the residential CRT market, the Theater Automation Wow HD-800 CRT projector.
The Company
Theater Automation Wow is an Internet startup with a local touch. The company's goal is to have local dealers display and install TAW's devices—and, in the future, service them as well. But following purchase, all projectors will then be set up at the Orlando factory and shipped directly to the client. Though to the customer this might look similar to the existing marketplace, this is not your standard factory/representative/dealer arrangement. The control of the sale is directly from the factory—discounting off retail price simply will not happen. As with a Saturn dealer, haggling over price will be a thing of the past.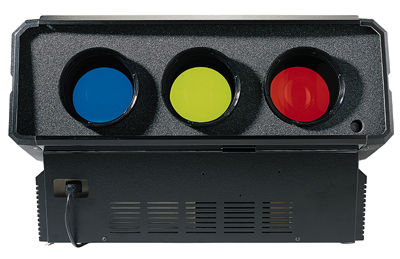 TAW's Phil Tuttobene, an enthusiastic contributor to many Internet home-theater forums, began selling refurbished Barco projectors in 1997. At that time, most professional dealers went whole hog into solid-state devices (LCD, DLP, and D-ILAs) for their rental and staging customers, causing a glut in the used-projector market as they sold off existing CRT inventories. But as the supply of used and rebuilt projectors began to dry up, Tuttobene, recognizing a growing and underserved market, began seeking a supplier of brand-new projectors. After Barco decided to market their own brand name in North America, Tuttobene found in Christie Digital (formerly Electrohome of Kitchener, Ontario, Canada), a willing and able collaborator.
The Projector
The HD-800 began life as a professional rear-projector chassis for motion simulation. TAW made a few internal modifications to reduce noise, swapped out the original HD-8 lenses for the excellent short-throw US Precision Lens HD-145 (nearly ubiquitous on 7- and 8-inch CRTs), painted the case black, and voilá;—their own 8-inch electromagnetic focus CRT projector for retail sale. The HD-800 doesn't have the industrial design pretties of a Sony or Vidikron, but it's no ugly duckling—just a utilitarian duckling that goes swan-beautiful with the press of the Power button.
The HD-800 measures 28 inches wide by 17.5 high and 31 deep, and weighs about 145 pounds. That makes it a strenuous but not impossible project to install on the ceiling (add $450 for ceiling bracket)—a three-man job, at least. TAW claims a small footprint for the HD-800, but this is true only if you compare it to the behemoth Barco 1209 and Sony VPH-G90, both of which have 9-inch CRTs. Though the HD-800 is larger than nearly everything else in its price range, it's still comfortably sized, and packs enough quality to warrant its heft. It's certainly one of the most sturdily built and well-shielded projectors I've ever looked inside.
The TAW is touted as a quiet projector, though to my ears it's simply as good as a professional CRT unit can be. Such models are usually designed for 24/7 operation—sometimes in government installations, where reliability can be an issue of national security—and most have a collection of internal fans that directly move cool air past crucial circuitry. But the HD-800 is the only projector I've ever known in which a fan stays on when the unit is turned off. In other words, even when it's not being used, the TAW HD-800 makes as much noise as an operating Dwin HD-700 (reviewed in an upcoming issue). (This is also true of the Vidikron Vision Three, reviewed in our October 2000 issue, and also based on a Christie Digital/Electrohome chassis. Actually, the essentially silent Dwin is quieter in operation than a plugged-in but turned-off Vision Three.) At any rate, I could neither verify nor refute TAW's claimed noise level of 49dB/m.
The HD-800 has only a single set of inputs on its rear panel, in the form of five BNC connectors (RGB plus H and V or combined sync), which means you'll need an external video processor or a high-definition source with RGB outputs. As delivered by TAW, the projector will not accept a progressive component signal (as from a progressive DVD player or hi-def tuner); but, like other Christie Digital CRT chassis, the HD-800 has slots for additional inputs. For about $300, a second RGBHV or HD input card can be installed, eliminating the need for an outboard switcher.
In addition to the supplied wireless remote control, an identical unit is hidden beneath the front panel, this one hardwired to the projector with a 2-foot cable. I would have preferred a cable long enough to get me up to the screen surface, but I'm sure an extension wire could be created with little effort.
The HD-800 has 80 memory slots for saving various scanning rates or aspect sizes. Each position can be saved with a unique 11-digit description that can be recalled with one or two keystrokes. There are four memory slots for individual gray-scale calibration, any of which can be used by the 80 memory positions. They are pre-labeled 3200K, 6500K, 9300K, and User, but can be adjusted to any color temperature. Usually, I set up a projector to have a 5400-kelvin setting for proper black-and-white rendering, a 6500K slot for regular television and movie viewing, and a 9300K setting for a bit more excitement with indoor sporting events, which leaves one slot open for additional uses. Even for adventurous users, the limit of four choices should not be unworkable. I used them to lock in the calibration settings of the various video processors for a more perfect comparison, as each of the processors used in this review had slightly different color temperatures.