Test Report: S1Digital ES400 and P250 Entertainment Server Page 3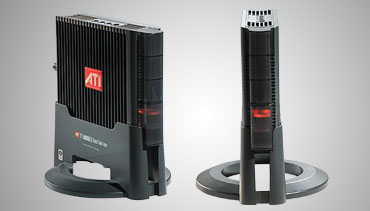 PERFORMANCE
I must say up front that being able to access all of your video, music, and photos via a single box located at the TV (the P250 Media Center Client) is a minimalist's dream. With bedroom systems in particular, there's often no place to put components like a Blu-ray player and cable box. S1's system definitely addresses that issue.

Functionally, the system was a breeze to operate. Hitting the big green button on the remote control calls up the Media Center home screen, with simple up/down/ left/right/enter navigation for selecting options like TV, Sports, Music, Photos, My Movies, and Settings. The included remote isn't backlit, but Windows Media Center IR codes are widely available, so I'd recommend replacing it with a universal model.

The ES400's multiple lights and fans were a bit distracting and noisy for my taste, but its design allows for easy relocation to a spot where you won't see (or hear) it. The P250 Client's fan and hard-disk noise, while not as loud as the server, was also audible during quiet passages.

The S1 system does an acceptable job as a music server. Its graphical user interface fi lls your screen with 33 album covers at a time and presents the typical options of browsing by artist, album, and genre. It just doesn't bring anything new or outstanding to the table like album or artist reviews or Apple Genius-type "play more like this" options. The system can be enabled for FLAC audio file playback — a welcome feature.

If you want to use your TV's screen as a giant photo frame, you'll enjoy the slideshow presentation, which scrolls through black-and-white Polaroid-like tiles of your photos, then slowly zooms in and reverts an image to full color. This feature is very slick and can be turned on while playing music.

As a DVR, the S1 approaches the performance of Moxi and TiVo units in terms of functionality, but it doesn't require a subscription and provides signifi — cantly greater storage capacity. I also loved having Internet TV at my fingertips, with easy access to all the major TV networks' online content plus tons of other stu. that my wife and I normally wouldn't check out, like G4 TV. Survivor outtakes and extra footage, the original Star Trek, any episode from the first three seasons of The Twilight Zone — it was almost more viewing options than we could handle!
LATEST VIDEO