Test Report: S1Digital ES400 and P250 Entertainment Server Page 2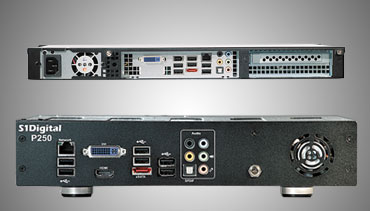 SETUP
S1 performed most of the configuration prior to my system's arrival, so the actual install was amazingly simple. The P250 Client required only a Cat-5 cable connection to my home network and a single HDMI link to my A/V processor. The ES400 Server is "headless," meaning that it doesn't connect to any kind of monitor. Along with a network hookup via its LAN port, it required a USB connection from each of the two ATI TV Wonder digital cable- TV tuners that S1 also sent along. Along with tuning unencrypted cable channels, these also accept a Cable- CARD for tuning premium services like HBO and Showtime. Each P250 Client, meanwhile, can stream programs from up to four tuners. I did need to replace my network hardware (both the router and switch) to gigabit models to accommodate the bandwidth demands of Blu-ray and high-def cable TV streaming. (Video quality proved very choppy and unstable over my existing 10/100 network.) Once the components were in place, an S1 tech named Ron remotely logged into my system and made the necessary configuration changes. (In the real world, this procedure would be handled by your dealer/installer.)

The P250 uses Intel integrated graphics, which is said to support 1080p/24-format video. However, video blurred and stuttered when running in this mode, so I ultimately reverted to playing ripped Blu-ray discs in 1080p/60 format. (S1 says Intel is working to resolve this issue.) The P250 supports the 7.1-channel high-rez Dolby TrueHD and DTS-HD Master Audio formats, decoding them internally or outputting the bitstream for your receiver to handle. Audio support also includes a 7.1-channel analog output.

Movie ripping is a slippery subject in Hollywood these days, and a number of studios have started to include digital copies and download codes in their software packaging. My review system had a copy of AnyDVD software pre-installed on the server, which allowed it to rip and stream both DVDs and Blu-rays. S1 doesn't install Any- DVD for customers, however, and its official line regarding ripping is "you can't archive copy-protected discs."

That said, installing AnyDVD is incredibly simple, and once a customer, dealer, or some magic fairy installs it, the system is ready to go and integrates fully with Any- DVD, including supporting the regular updates.

The system can be configured so that discs are either ripped by the P250 Client and sent over your network to the server, or ripped straight to the server from its own drive tray (a faster option because the data doesn't have to travel over the network). Once ripping is set up, you just pop in a disc and close the tray; the rest is automatic, including all metadata and cover art retrieval.

Blu-ray titles took about 50 minutes, while regular DVDs ripped in 15-20 minutes. I was able to rip most DVD and Blu-rays with no trouble, although some of them required a software update.
LATEST VIDEO