Test Report: Onkyo TX-NR727 A/V Receiver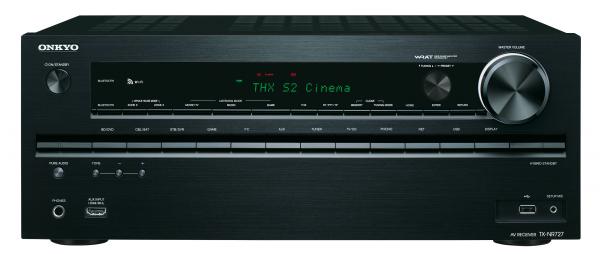 How much would you pay for an A/V receiver? For a lot of people, the answer is "$899." This upper-mid-price sweet spot has long marked the point at which AVR-manufacturers sell the most product. Consequently, it's where they offer the most features, performance, and power for the lowest possible dollar amount.
Case in point: Onkyo's newest mid-line model, the TX-NR727. The list of stuff you get for your $899 is lengthy indeed (see Key Features box for the high points), while its 110 watts x 7 power rating might very well seem respectable in a plain, featureless power amplifier at this price.
The TX-NR727 sticks fairly close to the control layout and cosmetic theme of other Onkyo receivers. It's conservative, but handsome and useable. The new model's most visible feature is an illuminated band that encircles the volume knob and glows quite conspicuously when it's powered up.
Setup
The TX-NR727 is endowed with no fewer than 7 rear-panel HDMI 1.4a inputs, plus another, MHL-enabled one on the front. But an immutable price/features law of A/V design dictates something's gotta give — at least at this middle range — and here it's "legacy" connectors: Onkyo supplies just a single component-video input/output, 3 composite-video inputs and 1 output, and no S-video at all. More significantly, it lacks both multichannel pre-amp outputs and multi-channel analog inputs. The TX-NR727 does decode DSD via HDMI, though, so SACD-freaks (me, and that other guy) are covered. All this consolidation results in more than a little blank real estate on the Onkyo's back panel, which at least makes accessing the facilities located there a bit more comfortable than usual.
Setup commenced with the familiar chore of running the TX-NR727's Audyssey MultEQ auto-setup/room-EQ software, and moving the small supplied cal-mic to up to 6 locations around the prime listening seat (I generally use 5.) The results were exactly as I've come to expect from many another MultEQ run with other components: tighter, "quicker"bass, and a subtly clearer midrange. Audyssey also got all my speaker sizes, crossovers, and levels just about exactly right. (Both Audyssey Dynamic Volume and Dynamic EQ are on board too.)
Also on the TX-NR727's long list of features is Audyssey DSX, a processing mode that can "up-mix" (Audyssey's term) to 11.1 channels, including both front-wide and front-height speakers, from stereo or 5/7.1 material. However, the TX-NR727 provides only the front-height speaker outputs, the first such limited-DSX component I've encountered. (In the original DSX press intro, Audyssey stressed the importance of the width channels; they have apparently accepted a subset of functionality since that time.) I set up 7.1, using the front-height two-ways I keep wall-mounted for such duties.
The new model's updated onscreen menu system is a bit fancier graphically than its Onkyo forebearers but still clear and generally intuitive. However, it only appears on the HDMI outputs, an arrangement that is, unfortunately, increasingly common on today's AVRs.