Test Report: NAD T757 A/V Receiver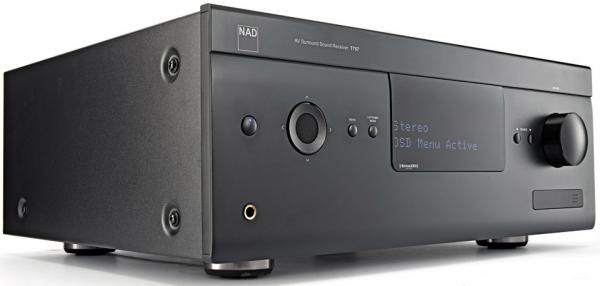 When I reviewed one of the first of NAD's long-awaited "new-generation" A/V receivers almost 2 years ago (can it be?), I liked it a lot.
Know what? I like this one even better.
NAD, a company long known for different-drummer-marching if not iconoclasticism, has taken its "less is more" approach to A/V electronics to new heights, a fact evident from even a casual glance at the T757's front panel. You'll see one knob, a 4+1-way cursor/enter pad, and four buttons — period. No touch controls, no thicket of keys behind a drop-down "modesty panel," nada. And the elegant remote controller is just as clean.
I admire the design freshness and forthrightness: The T757 is a bold stroke for simplicity and usability. To prove it, let me begin with the stuff NAD leaves out (all or most of which you'll fi nd on every price competitor): a printed owner's manual (you get a PDF on CD-ROM), superfluous composite- and S-video jacks (you get one output of each flavor, plus two composite ins), superfluous stereo audio jacks (three inputs, no record outputs), THX (anything), any video processing beyond analog-to-HDMI conversion, any DSP-synthesizing ambience listening modes whatsoever, network streaming, an MP3 "restorer" feature. And there's more. Now, be honest: Is any of the foregoing a deal-breaker?
Also absent are puffed-up power ratings: NAD specs the T757 at 60 watts, all channels driven simultaneously, full-range, at <0.05% distortion. Yet it still qualifies as 7 x 120 watts under the FTC measurement standard.
Stuff you do get includes basic Audyssey auto setup/speaker calibration (but not room-correction EQ), plenty of HDMI and component-video inputs (four each), Dolby TrueHD and DTS-HD Master Audio decoding, and plenty of thoughtful design elements.
Setup
Slotting the T757 into an all-HDMI layout could hardly be simpler: Connect HDMI and speaker wires, plug in the supplied Audyssey calibration mike, run the routine, and you're done. I loved the NAD's onscreen display: instant on/off with clear, plain text, plainly laid out with a minimum of choices and menu branchings.
There are a few subsequent options to be considered, mostly on the Input page, but nearly all can be left at their defaults with the user none the wiser; the NAD will just "work." And this again emphasizes NAD's design mantra for the T757: less. There are very few optional listening modes (essentially, Dolby PLIIx and DTS Neo:6), and none that are likely to be wildly inappropriate, regardless of program. There's no picture formatting or video "enhancing." Consequently, even the most unsophisticated users will find it difficult to make the output of NAD's receiver "sound funny" or "look weird."