Test Report: Mitsubishi HC7800D 3D DLP Projector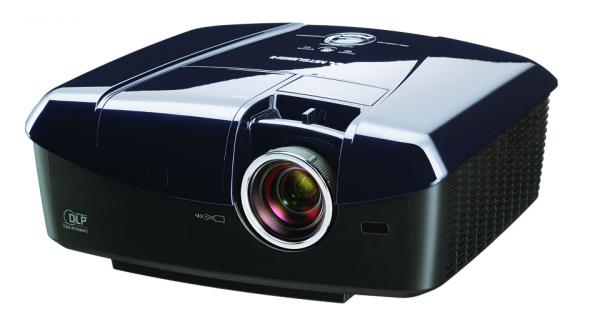 If there's a sweet spot for home projector prices right now, it would be $3,000 to $3,500. Over the past few months, we've reviewed excellent projectors in that range from Epson and Sony, and promising, similarly priced offerings are also available from JVC and other manufacturers.
Once an LCD projector staple, Mitsubishi made the switch to DLP a few years ago. On paper, its HC7800D ticks all the right boxes: 3D-capable, full-glass lens, and all the other bells and whistles.
But that's just on paper. So we figured we'd test it for real, right here... on paper. Eh, you get my meaning. Behold, the HC7800D!
Setup
The first thing you notice about the HC7800D is its looks. Or rather, what it lacks in that department. It's sort of... frumpy, with this unfortunate muffin-top thing going on. But it's also small, and when it's mounted on your ceiling, the glossy black finish is probably innocuous enough. I say "ceiling" because, as with many single-chip DLP projectors, there's limited vertical-lens adjustment. Even at the outer extent of the adjustment range, there is still an upward throw, so the projector needs to be mounted slightly above or slightly below the screen. Tabletop placement is fine, but rear-shelf placement is not.
There are two height-adjustable feet but four holes, so you can remove the feet and place them where you need them. (Not sure why they didn't just include four feet, but I'm not an accountant.)
The remote shares the projector's near-total lack of styling. It is backlit, and it has dedicated buttons for all of the major (and most of the minor) settings. I found that the remote's signal often wouldn't bounce off the screen; it needed instead to be aimed directly at the projector. This seemed especially true when the included 3D emitter was active.
The menus are a throwback to the projectors of yore (i.e., 2004), with a very Windows 95 look. But it's what's in the menus that counts, and here the HC7800D scores pretty well. It's got all the basics plus color management, gamma adjustment, and multiple picture presets that you can adjust and save. That last point is important to note: You need to manually save your settings to a preset. You can make all the picture adjustments you want and the menus will reflect the changes, but if you switch presets, they all disappear. I found that out the hard way, and was not pleased. There are also several factory picture modes, but you can't make any adjustments to them, which is odd.