T+A Announces 3rd Generation of All-in-One Audiophile Music System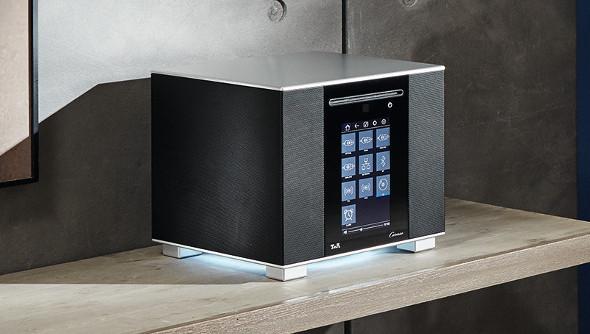 The German audio company T+A (Theory + Application) has announced the third generation of its all-in-one Caruso Music System built for audiophiles.
Described as "refreshingly different without appearing alien," the $3,990 system is slated to ship to U.S. specialist audio dealers in February, a month after it becomes available in Europe. It has been updated to accommodate Tidal, Qobuz, Amazon Music, Deezer, Spotify, and Airable internet radio streaming services in addition to supporting wireless streaming via aptX-enabled Bluetooth and Apple's Airplay 2 platform.
The Caruso system features a 7-inch touch display and packs a CD player, FM tuner, three DSP-controlled amplifiers with a total output of 200 watts, and five active drivers in a cube-shaped aluminum enclosure measuring 11.4 x 11.4 x 10.6 inches. The drivers — a 6.5-inch woofer and pairs of 0.75-inch cloth-dome tweeters and 4-inch midrange drivers — have been updated to deliver deeper bass and improved midrange and treble performance, according to the company.
The amplifiers deliver 100 watts to the woofer and 50 watts to each midrange/tweeter complement and bass response is augmented by two 6.5-inch passive radiators, one on each side of the cabinet.
Connections include two sets of analog RCA inputs, one analog RCA pre-out, coaxial and optical digital inputs, a USB port, two network (LAN) jacks, a subwoofer output with a variable 40-150-Hz crossover, and 3.5mm minijack headphone output.
The system can be controlled via the touch display or hand-held remote control, the T+A NavigatorOS app, or Amazon's Alexa voice assistant; its microphones can be switched off to preserved privacy. An LED light strip integrated into the base of the cabinet can be set to white, blue, green, or red with variable intensity.
For more information, visit ta-hifi.com.