Systems with Style
At the CEDIA EXPO held earlier this month in Denver, Colorado,
Infinity Systems
introduced three new systems in the company's Total Solutions System line: the
TSS-1200
,
TSS-800
, and
TSS-500
. Each speaker system is a complete 5.1-channel package that includes two pairs of wall-mountable satellite speakers, a low-profile center channel, and a powered subwoofer.

The styling of the new TSS systems is a significant upgrade from Infinity's previous TSS-1100/750/450 home theater speaker packages, which featured a rounded-but-more-traditional look.

The recently debuted TSS series combos are available in platinum or charcoal finishes and were designed with contemporary styling intended to match a wide variety of thin rear-projection TVs as well as super-thin flat-panel TVs. The satellites and center channels have curved, contoured exteriors while the subwoofer has a rounded cabinet.

Infinity says the speakers in the TSS-1200 and TSS-800 incorporate its MMD drivers, which are made by anodizing both sides of an aluminum woofer cone or tweeter dome to a controlled thickness. This process is meant to create lightweight, rigid driver diaphragms that minimize distortion and improve transient response and tonal quality.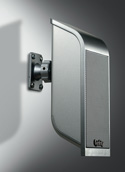 The satellites and center channels can be shelf- or wall-mounted and come with fixed or adjustable wall-mount brackets. For those who like their speakers to be more upstanding members of their living room, optional matching floor stands for the satellites are available. (The center channel will have to stand on its own.)
Infinity's Suggested Retail Prices are: $1,299 (TSS-1200), $899 (TSS-800), and $549 (TSS-500). All three systems will start shipping in October.
LATEST VIDEO