The Swimmer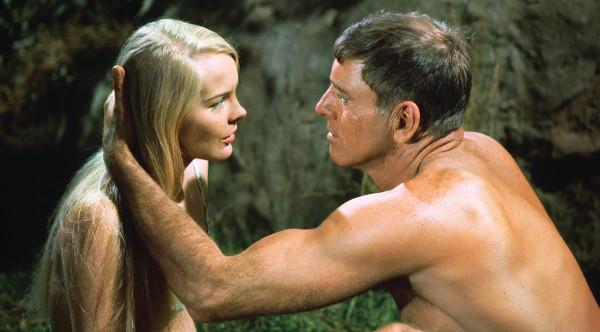 The Swimmer
is a rather artful drama that is ultimately open to individual interpretation. Determined to swim his way home from pool to pool across the county, middle-aged Ned also spends this unusual day wrestling with the very truth of his life, reality coming at him in increasingly hostile waves as he encounters more of his friends. Clad only in bathing trunks—except for one scene in which he removes them altogether—the legendary Burt Lancaster imbues this misguided soul with his bigger-than-life screen presence, carrying the entire narrative on his broad, buff shoulders.
Released just five months after The Graduate, The Swimmer explores much the same subject matter: the hypocrisy of the American upper-middle class, masked by an almost suffocating friendliness. And much like Ned's cheerful anecdotes throughout the day, it's a fraud, whether realized or not. With its curious stylistic flourishes, the movie has since evolved into a cult favorite.
Grindhouse Releasing has commissioned a spectacular 4K restoration for this new Blu-ray. Every pore and freckle is plain to see beneath a light dusting of film grain across the 1.85:1 frame. Blacks are deep and natural, the late-summer hues are lovely, the bold blue skies and crystal-blue waters beckon us, and it all displays the appropriate Technicolor warmth of the era. It's as if we're watching an absolutely optimal presentation, circa 1968.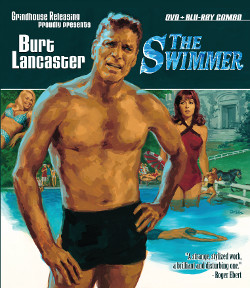 Further assuring such authenticity, the soundtrack is a true single-channel mono in DTS-HD Master Audio. The fidelity holds up quite well in high resolution, with no audible strain. Dialogue is perfectly clear, although we can readily tell that extensive portions were looped. The audio opens up nicely for some the bigger parties that Ned crashes, but there's little in the way of any memorable effects. Marvin Hamlisch's musical score is, however, available in an isolated Dolby Digital stereo.
The extras are remarkably generous for a relatively little-seen film from a boutique label. A five-part behind-the-scenes documentary, over two hours total (although frankly it does run a bit too long), catches up with some of the surviving talent, reminiscing about the late star and the colorful, troubled production. Even Joan Rivers, who has a small role, pops in to share her recollections. Filmmaker Allison Anders also interviews co-star Marge Champion one on one, plus we can listen to the original story read aloud by Cheever himself, watch outtakes, and more. This is a combo pack with a handy DVD of the movie included, along with almost all of these same bonus features too.
Blu-ray
Studio: Grindhouse Releasing, 1968
Aspect Ratio: 1.85:1
Audio Format: DTS-HD Master Audio 1.0
Length: 95 mins.
MPAA Rating: PG
Director: Frank Perry
Starring: Burt Lancaster, Janet Landgard, Janice Rule
Embellished from John Cheever's most famous short story,
LATEST VIDEO