SVS Virtual Audiophile Happy Hour Is Back—Again!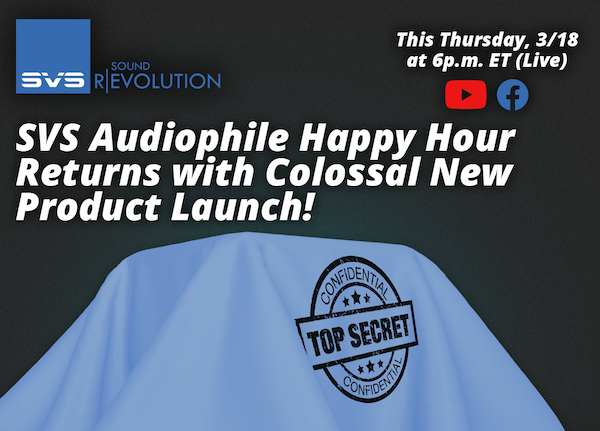 The SVS Virtual Audiophile Happy Hour returns with yet another new product announcement today, Thursday, March 18 at 6p.m. ET, live on the
SVS Facebook page
and
YouTube channel
! According to SVS, the new product is "game-changing" and will "dwarf anything SVS has done before." Wonder what it could be?
As usual with the SVS Virtual Audiophile Happy Hour, there will be massive giveaways and SVS Chief designer, Smith Freeman, and Director of Technology, Ed Mullen, on hand with Gary, Larry, and Nick to share exclusive details and design stories about the new products you won't hear anywhere else.
Giveaways for the evening include an SVS Prime Wireless Powered Speaker System, pair of Prime Elevation speakers, one of the new products being announced, and for the finale, a jaw-dropping 2.1 audiophile speaker system featuring the new product. Leave a comment during the live stream and you're eligible. Winners announced live on-air.
WHERE TECHNOLOGY BECOMES ENTERTAINMENT