SVS PC-4000 Subwoofer Review Page 2
My reference system has four subwoofers: the SVS PC-Ultra, a 15-inch Hsu Research VTF-15H MK2, and dual 10-inch JL Audio Fathom f110 cabinets, all of which have been painstakingly calibrated using a miniDSP along with the freeware software Room EQ. For this review, I initially ran the PC-4000 by itself with no equalization applied, but I ultimately employed the Anthem Room Correction (ARC) from my AVM 60 pre/pro. Since my room is treated, the before and after graphs were quite similar, but the room correction helped with a slight dip in the 35-Hz range. [Ed. Note: Readers should observe that our quasi-anechoic measurements showed a dip in output for the sub in this range that may have contributed, though it should be easily corrected with the sub's onboard EQ. See Test Bench.—RS]
I performed all of my testing in the sub's Standard mode, but SVS provides port plugs that let you adjust the tuning to your liking. Plugging one port—and changing a parameter in the SVS app—places the sub in Extended mode. This means it will have greater output below 20 Hz but less maximum output versus Standard mode. If you seal all three ports, the response below 35 Hz is reduced in level, but the bass is a bit tighter and more controlled. If I were using this sub for music only, sealed would be my preference. For movies, however, it would be a toss-up between Standard (more output) and Extended (deeper bass extension). Bear in mind that every mode works well with all types of content, so which you choose is a matter of your environment, preferred listening levels, and how you like your bass to sound.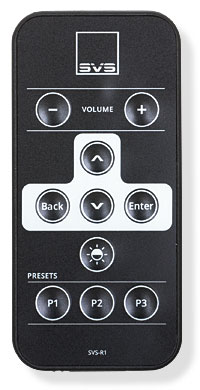 Ain't That a Kick
Auditioning subwoofers is among my top things to do. (I've found, however, that my wife and dog don't seem to appreciate deep-bass-pounding scenes played back at reference levels. I just don't get it.) Fortunately, there's a plethora of movies offering demo-worthy moments that highlight a sub's ability to dig deep and play loud.
By far my favorite Michael Bay film is 13 Hours, which tells the story of the survivors from the Benghazi attack. Whether or not you agree with the movie's subtle political undertones, the Blu-ray is well worth watching for its kick-ass Dolby Atmos soundtrack. Sure, the overhead effects are great, but the bass response is what really sets it apart. The final assault on the CIA annex has it all: gunshots, including both small arms and pulsating 50-caliber weapons, and mortar rounds, which generate the most bass response. The PC-4000 met every expectation I had for this movie. I could not only hear the impact of the bass but also feel it as the subterranean sound shook my room on its raised foundation. Hearing a 50-caliber machine gun is impressive enough, but feeling every shot as if you were there is what makes watching movies in a capable home theater truly special. The pounding mortars were icing on the cake.
Keeping the battle theme alive, I watched the Ultra HD Blu-ray of Hacksaw Ridge, which was my personal pick for Best Picture of 2016. It's the story of a true American hero who put his life in harm's way to save 75 men in World War II during the Battle of Okinawa, while never carrying a firearm, due to his religious beliefs. Before his company's initial foray, battleships off the coast launch a barrage of shells from their massive 16-inch guns in order to soften up the well-fortified Japanese units. Once again, the PC-4000 flexed its muscles with deep, pounding bass response. Every cannon blast hit with such force that I could literally feel the impact in my chest. Man, I love bass!
Hans Zimmer: Live in Prague is the newest addition to my Blu-ray library, and its bass-infused Dolby Atmos mix is outstanding. The concert features various selections from his movie scores, including excerpts from Gladiator, Inception, and the Pirates of the Caribbean series. "What Are You Going to Do When You Are Not Saving the World?" from Man of Steel is one of the best tracks on the disc, as it engages the full orchestra, especially the bass section. The PC-4000 mated perfectly with my M&K Sound S-150 satellite system as the Blu-ray dipped below 80 Hz. Zimmer loves his drums, cellos, and bass, so a sub- woofer that's up to the task is a must- have. The bass response here was taut; drum notes didn't linger, and their natural reso- nance was repro- duced faithfully.
Two Are Better Than One
As you can tell, I really like the PC-4000. Of course, it's about 8 inches taller than my reference subwoofer—and with the upgraded internals, its output is greater, and it can dig deeper. This was particularly noticeable on tracks that dip below 18 Hz—bass that's felt, not heard. And setting up this sub is much easier, given its remote and its handy phone/tablet app.
My only gripe is that I wish SVS would have supplied a mic and software (or app) to allow use of the built-in PEQ without having to tap a third-party software solution or to manually build your own curves with the assistance of an SPL meter and a spreadsheet. Granted, this would add to the cost, and it may not be neces- sary for many users, given how good the room correction software is in most AVRs these days. That nitpick aside, this is one fantastic subwoofer, and if floor space is an issue for your system, it's well worth audi- tioning using SVS's 45-day in-home trial. Better yet, get two to enjoy effortless-sounding output and more even coverage in your listening environment. Highly recommended.