SVS Audio Adapter Makes Wired Speakers Wireless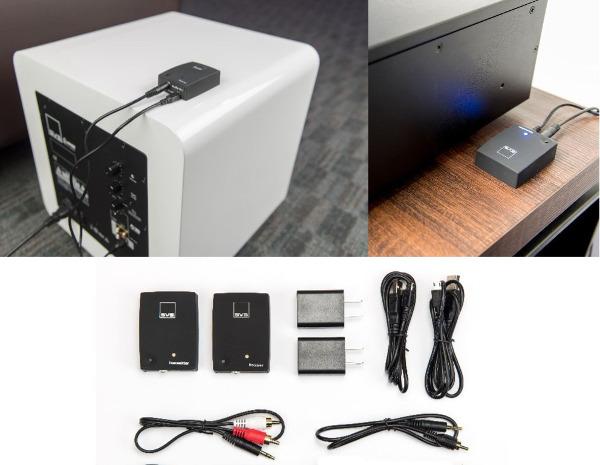 SVS has introduced an audio adapter that makes it easy to add wireless connectivity to subwoofers, speakers, and other audio gear.
The SVS SoundPath Wireless Audio Adapter Kit ($90) includes compact transmitter and receiver modules that send and receive a full-range signal up to 65 feet at CD quality, according to the company. The system's rated frequency response is 6 Hz to 22,000 Hz ±1 dB and signals are transmitted over the 2.4-GHz band with an "ultra-low latency" of less than 25 milliseconds.
Adding wireless connectivity not only reduces cable clutter but greatly expands placement options, which is especially important for a subwoofer.
Described as quick and easy to install, the system will work with almost any wired audio device, including subwoofers, powered speakers, amplifiers, TVs, and media streamers. Each module has a jack for power and one minijack connector — an input on the transmitter for connecting to a receiver or source component and output on the receiver module for connecting to a subwoofer, speaker, or amplifier. The kit includes two 17-inch 3.5mm-to-RCA stereo cables and two 15-inch 3.5mm stereo-to-RCA mono cables.
Once connections are made, the SoundPath modules are paired via a simple routine. SVS says up to three adapters can be paired to create a multi-room distributed audio system.
"SVS engineered the best performing wireless subwoofer adapter available and then made it better by designing it to pass a pristine and accurate full-range audio signal for the benefit of speaker owners," said SVS President and CEO Gary Yacoubian. "The SoundPath Wireless Audio Adapter reduces subwoofer cable clutter without sacrificing performance better than any solution available, but it also unlocks wireless connectivity for a stereo zone, powered surround sound speakers and amplifiers, and solves placement and aesthetic issues."
For more information, visit svsound.com.