S&V Road Trip: SVS
Gasoline may be expensive as hell, but summer's arrival means road trips (just ask AAA). Heeding the season's call - or rather that of Ron Stimpson, SVS's co-founder and Director of Product and Marketing - I grabbed some CDs, hopped into my wagon, and zipped through the green fields of Northeastern Ohio for a visit to the company's speaker production facility.
The SVS story is an interesting one. A bunch of guys who regularly posted on the Home Theater Forum's hardware section had the idea to take their hobby to the next level. After crunching the numbers and maxing out some plastic, a company was born. SVS's first subwoofers were literally built out of the garage of one of its founders. Eight years and $40 million in sales later, the growing operation occupies a 20,000-foot factory on the outskirts of Youngstown, Ohio. And with demand for SVS's speakers and subs increasing (along with a steady stream of domestic sales via its Web storefront, the company exports products to dealers in Europe, Russia, and other international markets), they may soon be expanding into an even larger space.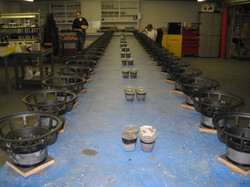 It's no secret that most audio products get manufactured in China. That's been the state of things for many years now. While SVS does take advantage of Chinese facilities to supply components for its speakers and subwoofers, a good amount of production actually takes place in Ohio. Along with putting together products on a made-to-order basis (you click the Buy button on your computer's screen, and SVS's Dan Marks, Eli Trinkle, and the rest of their crew get busy building your order the very next day), these guys hand-assemble their own drivers. And in the case of the company's PB-13 Ultra and PC-Ultra subs, they've actually designed and tooled many of the drivers' components from scratch!
Why does SVS go to the trouble of hand-assembling speaker drivers in Ohio when they can easily be bought in bulk and shipped from China? From what SVS told me, a big part of the reason is product reliability. Because they get to closely monitor all aspects of production (SVS's driver design guru Stephen Ponte works on site), its components consistently meet spec - something that also accounts for the company's extremely low failure and return rates. The crew putting together the speakers and subs seemed like a tight group during my visit. Several key employees have been with the company since those earliest days in the garage, and they obviously take a great deal of pride in their work.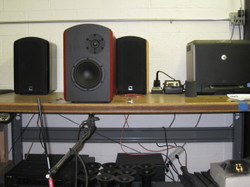 A highlight of my trip was getting to see the new MTS-01-series speakers in person. As much as our own Ken Pohlmann admired the sound of the company's SBS-01 and SCS-01 speakers in his December 2006 review, the system's cosmetics failed to move him. But SVS's newest line has a posh, high-end look. A false start on the design of the MTS-01-series crossover caused the company to pull back on production, but, according to SVS, a re-launch with an all-new crossover is planned for the August time frame. (A full review of an MTS-01-based system is planned for S&V's October issue.)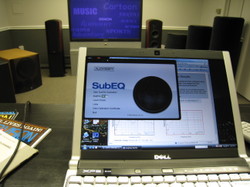 Another buzz-worthy item I got to check out during my Ohio trip was a pre-production unit of the company's AS-EQ1. This box, which SVS is currently working with Audyssey Labs to bring out (target ship date is late August), uses Audyssey's MultEQ XT room correction technology to overhaul your system's bass response. The AS-EQ1 hooks up to a PC via a USB cable, and SVS's custom software interface lets you apply processing and view before and after time and frequency response graphs on your computer's screen. Ron gave me a brief demo using the B-52's new bass-heavy Funplex CD, and the box's contribution to low-end performance in SVS's room was considerable. I'm definitely looking forward to trying this thing out in my own system! -Al Griffin
LATEST VIDEO