Survey: Online Holiday Sales to Top $100 Billion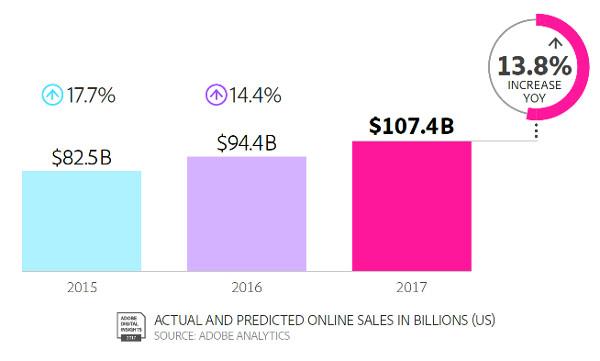 Online sales are expected to surpass $107 billion this holiday season, an increase of nearly 14 percent over 2016, according to a comprehensive retail prediction from Adobe Analytics, which the online transactions of the 100 largest online retailers, among other things.
Overall holiday sales will be bolstered by a 15 percent uptick in shopping on Thanksgiving Day, which will account for $2.8 billion in online transactions, and recording breaking sales of $6.6 billion on Cyber Monday (November 27), a 16.5 percent increase over 2016. Most of the shopping on Cyber Monday will occur between 8 and 10 p.m. local time, the survey found.
Looking at the entire holiday shopping season, Adobe estimates that one out of every six dollars will be spent between Thanksgiving and Cyber Monday. The next big sales wave will occur in the 12 days leading up to Christmas with last-minute shopping expected to account for a quarter of online sales during the 2017 holiday season.
Consumers surveyed expect to spend 55 percent of their holiday budget shopping online, up from 53 percent in 2016; they also plan to buy more items at lower prices.
While desktop PC purchases are expected to account for two-thirds of revenue this season, mobile will serve as a starting point for many consumers with web traffic on smartphones and tablets expected to outpace traffic on desktop PCs at 54 percent and 46 percent, respectively.
The season's most anticipated electronics gifts will include Apple Air Pods, Sony PlayStation VR, and smart speakers, including Amazon Echo and Google Home, according to Adobe.
If you're wondering whether it makes sense to jump online to shop on Black Friday, the answer appears to be yes, at least when it comes to TVs and tablets, which Adobe predicts will experience the sharpest online discounts of around 24 percent each. And as TV screen size increases, so does the potential discount with a 70-inch (or larger) screen set for an average discount of more than $1,100.
On Thanksgiving Day, shoppers can expect to find the best deals on computers (16 percent), sporting goods (11 percent), apparel (15 percent) and video games/consoles (9.6 percent), according to the Adobe report, while toys will lead the way on Cyber Monday with discounts of 19 percent.