Surf's Up: Hercules WAE Outdoor Rush Bluetooth Speaker Review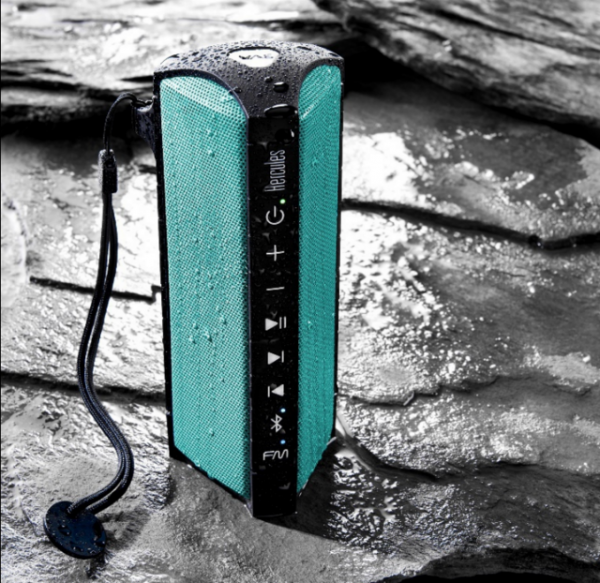 Summer's almost here and the time is right for dancing in the streets. Yup. I went there. While there are plenty of great-sounding Bluetooth speakers, sometimes you need one that you can really take anywhere and subject it to rigors you wouldn't dream of with other speakers. The Hercules WAE Outdoor Rush ($129) is a water-proof, dust-proof speaker that is so rugged it will even float. Best part—it also has a built-in FM tuner. Bring on the beach party!
The Outdoor Rush is the latest speaker from Hercules, a British company known for DJ equipment. In addition to floating, the compact speaker is treated with a nickel electroplating that reduces corrosion from saltwater and sandy beach excursions. Why bother with an FM receiver? Simple—when you're out on the beach, you probably don't want to have your precious phone anywhere nearby with all that saltwater and sunscreen around. Tune in to your local station, and save the battery on your phone for later.
For times that you can safely use your phone, connecting to the Outdoor Rush is mindlessly simple. The WAE (Wireless Audio Experience) app is free for both Apple and Android, and launching it on your phone automatically searches for the speaker and connects via Bluetooth. Via the app, you can control EQ settings, tune to FM stations or presets, and control music playback. The Outdoor Rush uses Bluetooth 3.0 with A2DP. It's a small portable speaker, measuring 6.5" x 2.2" x 2.5".
The built-in rechargeable battery provides up to 12 hours of playback, and there's a charging port so you can connect a phone that needs an emergency boost. Both input and output charging ports and an AUX input are behind a screw-in waterproof gasket—this is probably the most securely waterproof connector I've seen lately. All other controls are surface-mounted to give the Outdoor Rush an IP67 rating. It has a ¼" screw socket to allow for attaching to a variety of mounts, including tripod mounts. Hercules currently has bike and skate mounts available, with more for water sports coming soon.
Appropriately, I checked out the Rush with David Bowie and Mick Jagger's cover of "Dancing In the Streets." It's a great summer song, and it has a terrific mix. The stereo speakers are both mounted on one side of the Rush, so while there is a small stereo image, it isn't as wide as it could have been with the speakers placed on two separate sides of the unit—it is obviously designed to be placed horizontally. The vocals had a natural sound, but tended to get harsh if pushed too loud. There is a small amount of upper bass, and it has a surprising amount of impact in the percussive bridge of the song. It's a small speaker, and it doesn't produce a huge sound with only a maximum of 8 watts. The frequency response is rated at 130Hz - 20,000Hz, so there really is no deep bass at all. I would rather have no bass than bad bass, so the Rush doesn't overpromise or overdeliver in that area. The track doesn't have the overblown bass that some more current tracks do, and it sounded acceptable on the Rush. On more modern tracks, the lack of bass is a problem.
The Outdoor Rush is designed to be used outdoors—it's waterproof and floats. With the FM tuner, it allows you to keep your phone safely out of harm's way. For those times when its rugged features are needed, and sound quality comes in second to functionality, the Outdoor Rush is a no-brainer to go in the beach bag. Summer is here—bring the sunscreen, I'll bring the tunes!