Streaming Catches Up with Pay TV, 4K TVs On the Rise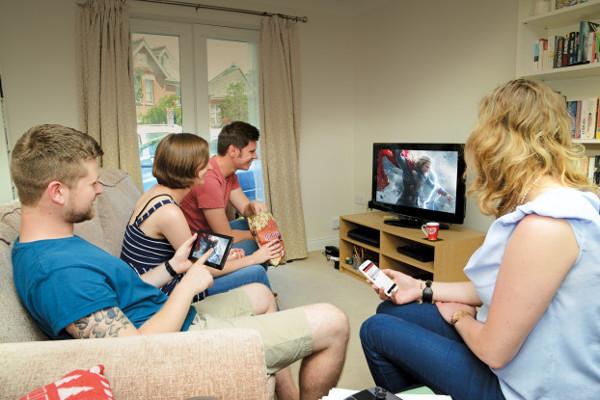 For the first time ever, the percentage of free or paid streaming video subscribers in the U.S. has nudged past the number of paid TV subscribers at 68 percent vs. 67 percent, according to new research from the Consumer Technology Association (CTA).
At the same time, a growing number of Americans now have the potential to enjoy picture quality that exceeds standard 1080p HD, as shipments of 4K Ultra HD TVs continue to grow at a rapid pace. The CTA projects shipments to hit 15 million in 2017, a 51 percent increase over 2016 in units or 38 percent in dollars. By the end of 2017, 4K displays are projected to exceed $14 billion in revenue to account for three quarters of annual sales, which are expected to reach $19 billion.
The new study, The Changing Landscape for Video and Content, also found that Americans spend nearly as much time watching video content on TV today (51 percent) as they spend watching video on laptops, tablets, smartphones, and other devices (49 percent). Overall, time spent watching video on the big screen was 11 percent less in 2016 than it was in 2012.
Meanwhile, the growing diversity of content sources and viewing devices is compelling Americans to spend more time watching video. The study found that we watched 17 hours of video a week on average in 2016, up from about 13 hours a week in 2011.
While most consumers still learn about new content through traditional methods such as TV commercials (56 percent), word-of-mouth (54 percent), and internet search (32 percent), social media and other non-traditional mediums are coming on strong with recommendations from streaming services (23 percent), social media (21 percent), and radio/TV/podcast hosts (16 percent) cited as sources of content discovery.
"More and more consumers are embracing the freedom of connectivity— in this case, the anytime/anywhere access to video content," said Steve Koenig, CTA's senior director of market research. "This is one of the driving trends of our time. Today's advancement of technology delivers 'content convenience' that results in cultural changes such as binge watching, second screen behavior, content recommendations, and the screens consumers use to consume video."
The CTA expects streaming subscribers to surpass paid TV services "by a fair margin "in the next year or so.
LATEST VIDEO