Straw Dogs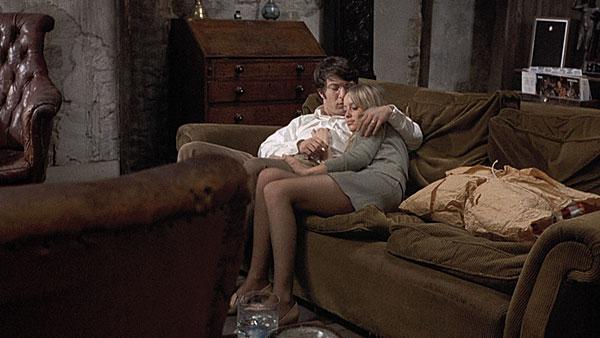 It's a wild-west horror-film village seething with aggression and coiled sexual tensions where touches, embraces, and fights erupt unbidden. Imminent violence hangs as a fog over streets of brooding, bored young men leering lustily while girls tease and flirt. There's too much time, too few dreams. Enter bespectacled, civilized, ineffectual American intellectual Dustin Hoffman, passive yet competitively macho mathematician seeking isolation to work with his gorgeous, bored, attention-seeking wife. Clannishness and hostility breed as the confines of the village close in, causing ugly moods to emerge. After a slow-burning build, sex, doubt, jealousy, and rape fantasies resolve in Sam Peckinpah's startling, almost surreal slow-mo, violent images clashing together in a torrent of testosterone-drenched cathartic catastrophe.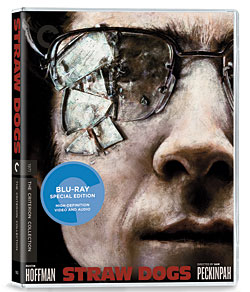 In this restored in 4K digital transfer from the 35mm camera negative, all damages of age are repaired. Images are often gloomy, foggy, moodily lit, and focus is shallow, but there's still plenty of detail. Contrast is good, blacks are deep and whites bright, and desaturated colors are not always distinct. Sufficient grain is left to give a brooding, film-like quality. There's texture in woolen weaves, leather chairs, and stonework, while sweat drops and individual hairs in beards and Susan George's golden locks are all visible.
The soundtrack is a masterpiece of domination that reflects the tribalistic intimidation of the characters. It builds with escalating savagery, alarming church bells, foghorns, and telephone rings all unnervingly harsh and grating. Voices can be sibilant, but Jerry Fielding's creepy and blaring classical bagpipe score sounds grand, clear, and resounding, with no hiss or breakup—yet it still puts you on edge.
Over six hours of insanely fulfilling extras are substantial and educational. A 53-minute making-of documentary revisits locations, while an analytical critic's commentary skillfully breaks down the language of the film. There's intelligent, engaging actor, filmmaker, and scholar interviews discussing cinema sexuality and a feature-length biography of the director with many craggy actors musing on his magnificent films and his old-world western dreams and sense of loss. A joy.
Blu-Ray
Studio: The Criterion Collection, 1971
Aspect Ratio: 1.85:1
Audio: Linear PCM Mono
Length: 118 mins.
MPAA Rating: R
Director: Sam Peckinpah
Starring: Dustin Hoffman, Susan George, Peter Vaughan
From the get-go in this hugely provocative and highly challenging essay on violence, there's a disconcerting, menacing montage of images that tilts you off balance. The setting is a small, insular, isolated, Wicker Man–ish Cornish community where Deliverance-like locals sit and wait.