Startup Telly Gives New Meaning to 'Free TV'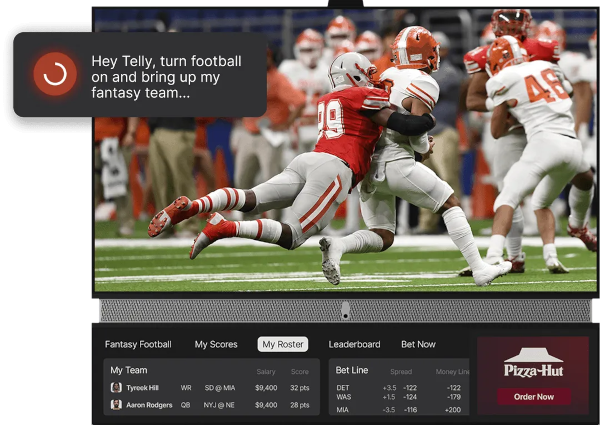 Do you despise TV commercials? Or do you tolerate them because you don't have to pay a subscription fee or pay a reduced rate? Or…maybe you're a helpless cable-TV addict unable to break (expensive) old habits and wary of making the switch to all streaming all the time.
If you have a tolerance for TV commercials, startup Telly has an unusual proposition for you. The company wants to give you a 55-inch 4K HDR TV/soundbar system for free in exchange for personal information advertisers will use to deliver targeted commercials.
The thing is, ads aren't delivered on the main screen. Instead, just below the main screen is an "immersive" five-driver soundbar and just below that is a "Smart Screen" the same width of the main screen but only a third of its height. The three sections that make up Telly's Dual Screen Smart TV are integrated into one low-profile AV system that can be mounted on the wall or placed on a cabinet (it has removable legs).
A box on the far right of the Smart Screen is dedicated to advertising. The rest of that screen is used to display a variety of content including weather, sports scores, news, stock-market updates, reviews, AI-generated "what to watch" recommendations, and more. The system is based on an operating system that has been optimized for the dual-screen experience.
But the Dual Screen Smart TV's capabilities go even further with the inclusion of music streaming , video calling with content sharing, a multiplayer Game Room offering more than 40 games, and a built-in voice assistant that makes it easy to set timers and alarms, schedule tasks, and satisfy curiosity with "Hey Telly" voice queries. The system can even be used to "turn the family room into a fitness studio with free advanced motion-tracking fitness programs designed for every lifestyle" (though the company doesn't explain how the programs actually work).
In addition to including a remote control, Telly's free super TV ships with a 4K Android TV streaming stick and is equipped with three HDMI ports, two USB connections, and a built-in TV tuner for receiving programs the old-fashioned way — over the air.
If this sounds like something you might be interested in, the company just announced a reservation system at freetelly.com where you can sign up to receive one of the first half million Dual Screen Smart TVs the company plans to begin shipping this summer.
As part of the sign-up process, you have to answer questions. "We ask about you and your household to optimize your ad experience," Telly explained in a press release issued earlier this week. Advertisers pay for the "the non-intrusive ad on the Smart Screen," which in turn funds the cost of the TV, making it free to consumers.
Telly Charts a New Course
The way Telly sees it, the company is pioneering the "world's first truly smart TV" — one destined to become the living room's end-all, be-all device.
"Telly is the biggest innovation in television since color," insists founder and CEO Ilya Pozin, who also co-founded the free streaming service Pluto in 2014.
"For too long, consumers have not been an equal part of the advertising value exchange. Companies are making billions of dollars from ads served on televisions, yet consumers have historically had to pay for both the TV and the content they watch. All of that changes today. When I co-founded Pluto TV, we created an entirely new model that offered amazing TV content to viewers for free. Now, with Telly, we are providing the actual television for free as well."
In an interview with Forbes, Pozin addressed Telly in the context of today's highly competitive TV market. "TVs are a commodity. When that happens, it's a race to the bottom for price. When there's no margin on hardware, 50 cents (of cost from a new feature) makes a big difference. When that happens, there's literally zero innovation."
Pozin's "zero innovation" claim is, of course, oversimplified. There is a steady stream of innovation today in TVs — from mini-LED and QD-OLED to MicroLED — which typically starts in high-end models and eventually trickles down to more affordable sets. And, as for profitability, TVs have been a notoriously low-profit business since at least the 1980s when then Hitachi executive Bob O'Neill coined the phrase "profitless prosperity" to describe an industry that sells millions of TVs without making much of a profit. (The phenomenon pertains mostly to low-end segment of the market).
Gary Vaynerchuk, serial entrepreneur and CEO of Vayner Media, offered a different take on Telly: "Gen Z and younger millennials live their lives today across multiple screens and only Telly unites those experiences into one incredible product offered at the perfect price point of free. We are thrilled to be an early launch partner with Telly and help our clients create an entirely new form of brand engagement that is truly valued by their consumers."
Should You Sign up?
Though Telly provides an overview of the Dual Screen Smart TV's features, the company has not revealed who is making the TV, which will cause some to pause.
Pozin describes the system this way: "Don't be fooled by the free price. This is by far the most advanced television ever developed. Consumers will never look at their television the same way again after Telly transforms the TV from a monitor on the wall into the most powerful and useful device in the home. Telly is the ultimate free upgrade that actually gets better month after month with over-the-air updates constantly innovating the living room experience. There has never been anything like it before."
"TV Answer Man" Phillip Swann does not mince his words on the merits of signing up for Telly's free TV. In a recent post on tvanswerman.com, he gave four reasons for why you don't want to sign up:
1. The TV's manufacturer is unknown. Swann cites concerns over the quality of the TV you are signing up to receive.
2. The company's press release and web site doesn't even have a contact person. Swann says he reached out to get more information about the company's advertising policies but as of Monday hadn't heard back.
3. The privacy requirements and ramifications are concerning. To say the least. Swann cites a concerning comment made by a Telly executive in a recent interview with The Verge: "When the theater display (top screen) is not in use, the ad unit could come to life in a fun way connecting both. There are literally hundreds of things we are thinking about to create the most engaging ad experience ever."
Swann also noted the presence of a camera in the soundbar and cites a passage from Telly's Viewing and Activity Data Policy: "(Telly) may collect information about the audio and video content you watch, the channels you view, and the duration of your viewing session. [That includes] your search queries…the buttons you select [as well as] the physical presence of you and any other individuals using the TV at any given time."
4. The TV is free but you could wind up paying. Swann, again, quotes from Telly's privacy terms: "You have the right to opt-out of sharing your Viewing and Activity Data, but unfortunately, that means you will no longer have access to the Services (and must return the television). If you opt out and do not return the television to Telly, Telly will charge the credit card on file [in the amount of $500]."
Swann concludes that Telly TV "represents the greatest attempt at invading the privacy of the American living room in TV history. It may not be Big Brother but it could be his little sibling."
You can read Swann's full commentary here and decide for yourself whether or not he is an alarmist.
All good points to be sure but, again, the TV is free. As is increasingly the case in today's fast-paced, increasingly AI-influenced society, it comes down to matter of how much private information are you are willing to share and with whom you are willing to sharing it.