Star Trek Beyond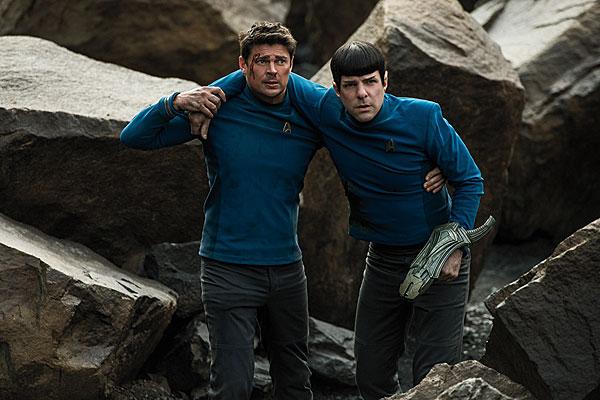 After two successful films, J.J. Abrams moved into the Star Wars universe and left this rebooted franchise in the capable hands of Justin Lin (Fast & Furious) to direct, and he definitely brings a penchant for nonstop action to the table. The screenplay was co-written by Doug Jung and Simon Pegg—who also stars as Scotty—and features a lot of witty dialogue along with the action.
I saw the film theatrically and wasn't that impressed by the presentation, though things are marginally improved on the 4K UHD release. The film was shot on 3.4K cameras and finished at 2K for its theatrical run, so this 4K presentation is an upscaled affair. Direct comparisons to the Blu-ray shows that the UHD has a bit more detail in close-ups and is a tad sharper on medium to long shots as well. Colors are deeper, especially red, but the black levels on both the Blu-ray and UHD are very inconsistent from scene to scene.
The Dolby Atmos track is very good, especially with its use of overhead effects and how their proper utilization can help draw the viewer into the scene. This is on full display in the first scene of the movie when Kirk negotiates with an alien race in a cavernous chamber. Echoes move about the room as if you're sitting right next to him as the proceed- ings take a turn for the worse. My only complaint with the track is that the bass levels are occasionally weak and don't dig as deep as they should to complement the onscreen action.
The supplements are housed on the Blu-ray Disc and include deleted scenes, nine featurettes, a gag reel, and a UV Digital Copy. The best featurette is "For Leonard and Anton" who both passed away before the film hit theaters—they will be missed by their fans around the world.
Blu-Ray
Studio: Paramount, 2016
Aspect Ratio: 2.39:1
Audio Format: Dolby Atmos / TrueHD 7.1 core
Length: 122 mins.
MPAA Rating: PG-13
Director: Justin Lin
Starring: Chris Pine, Zachary Quinto, Sofia Boutella
Three years into their five-year mission, the crew of the Enterprise is in dire need of shore leave. Fortunately, they're in a sector of space with an advanced star base, and they drop in for a visit. Shortly after their arrival, a distress call comes from a remote nebula, and their leave is cut short since the Enterprise is the only ship in the sector that can navigate through it. Once inside, they meet a deadly alien race in search of a rare artifact that just happens to be located on the Federation ship and will kill anything in their path to obtain it—even the Enterprise crew.