Sports-Centric PlayersTV Now Live on Samsung TVs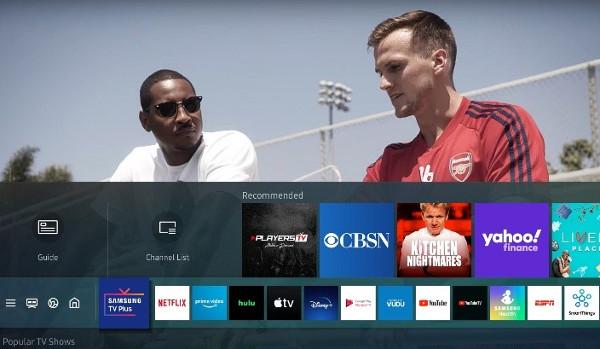 Sports fans who are mourning the loss of live games for a still-undetermined amount of time may get some relief from the new PlayersTV network that just launched on Samsung TVs.
Announced in February, PlayersTV is dedicated to sports lifestyle and culture with a focus on the lives of world-class athletes when they're off the field.
The programming is available through Samsung TV Plus, a free, ad-supported video service on Samsung TVs since 2016 with more than 100 channels spanning news, sports, entertainment, lifestyle, gaming, children's programming, and more.
PlayersTV connects athletes and their fans, providing a look into athlete's passions, interests, and off-the-field pursuits and blends a variety of mediums from comedies and documentaries to reality shows and podcasts, all centered on sports, culture, and lifestyle, according to the network's founders. The network has content partnerships with athletes from all major sports leagues, including Chris Paul, Vernon Davis, CJ McCollum, Baron Davis, and Carmelo Anthony, among others.
"Athletes are producing great content but getting it into the hands of our fans has been an issue for athletes across sports," said Chris Paul, NBA player and founder of Oh Dipp!!! Productions. "PlayersTV was developed to tackle that issue head-on. It will be a hub where fans from around the world can access our content and provides us with the opportunity as creators to support each other."
"At a time when major sporting events are unfortunately on hold, PlayersTV allows Samsung to connect fans with their favorite athletes in a new way," said Samsung's Salek Brodsky.
Here's a quick sampling of some of the shows on PlayersTV:
WTF Baron Davis – An irreverent comedy series starring Baron Davis as an unorthodox life coach providing mentorship to an assortment of eclectic characters.
Most Valuable Partner – Entrepreneurs pitch their ideas to Rob Gronkowski, Marshall Faulk, and other top athletes in the hopes they will invest in their early stage companies.
Mindful Life with DeAndre Jordan – A look at the entertaining world of Jordan who as a vegan and professional basketball player seeks to live a "mindful life."
"I'm excited to invite viewers on this journey as we discover the many ways to create mindfulness in our everyday lives," Jordan said. "Different activities show the enhanced benefits of creating mind and body balance."
For more information, visit playerstv.co and samsung.com.