Souped-Up Superman Page 5
One documentary explores the visual effects, particularly the production team's efforts to make a man fly convincingly. They tried everything - from models on wires to a 2-foot-long remote-controlled Superman to shooting a mannequin into the sky. These and the more successful Oscar-winning, envelope-pushing techniques that were actually used are all shown and explained.
The two other documentaries are really one hour-long making-of featur ette cut into two bite-size halves. Hosted by Jimmy Olsen (Marc McClure), they include new interviews with members of the crew, composer Williams, and three of the four stars - Reeve, Kidder, and Gene Hackman. The only one missing is the reclusive Marlon Bran do. (There's foot age from his 1978 interview, though.) Rich ard Donner and Tom Man kie wicz, the creative consultant who helped Donner develop Superman, appear extensively in the documentaries, and they also pair up to do the film's commentary.
If you want to know how the new cut differs from the original one, the disc has a section that takes you to each of the inserted segments. It also includes a couple of scenes that appeared in the version shown on ABC but didn't make Donner's new cut.
Producers Gaines and Thau have filled the disc with extras, all of them substantial. The screen test and music cues in particular are the kind of marvelous extras that make you appreciate how special a medium DVD really is.
Super Fly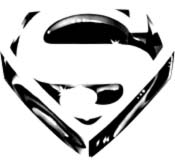 Superman has never looked or sounded this good, according to Thau, not even back in '78 for its theatrical premiere. "Superman will blow you away on DVD." And he's right. I went to see the film when I was . . . younger, and I don't remember it being nearly as impressive as on this DVD. Maybe it's improved with age, or maybe watching it with optimized images and sonics made the experience more moving.
From the opening theme, the music sent a chill through me, mostly because it was so enveloping. The sound stage was enormous, but clear and sharp as a Kryptonite crystal. And though all of the complex elements of the musical score were powerfully there in every scene, I never missed a word of dialogue. The picture, too, was crisp, clean, and strikingly rich in color - Superman's cape was vividly red and his suit undeniably blue. Even though I was watching a DVD, the images had filmlike smoothness, solidity, and detail.
The highlight was the scene in the elegiacally sad first half where Jor-El's hologram educates his son in the For tress of Solitude (the restoration has cut a lot of Brando back into the film). As Brando's giant head moves and jumps about the fortress, the sound, too, takes a crazy trip, leaping and flow ing from speaker to speaker, the audio acro batics only adding to this scene's power.
Film is fantasy, and like all religions it only works if you allow it to. Disbelief, like Christopher Reeve, needs to be suspended for any flight to occur. If you want to believe that this Messianic Peter Pan man can fly, this DVD will reward your faith.
Be sure to read our uncut, web-exclusive interview with Richard Donner