Souped-Up Soundbars from Bose and Atlantic Technology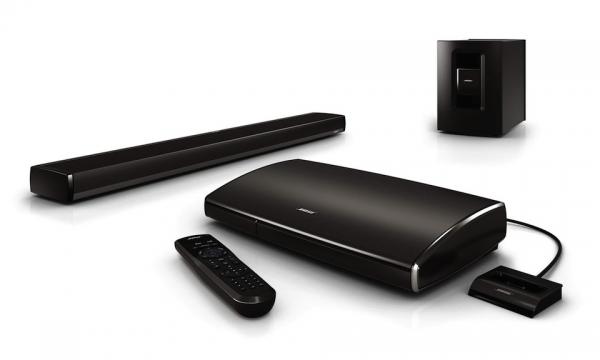 Lots of news on the soundbar front this week, so if you're looking to cram a surround experience into a tiny space you're in luck.
Atlantic Technology have updated their single-box 7-channel solution with the release of the FS-7.1 ($950), with a slicker package, improved crossover, and better performance overall. As with its predecssor, no HDMI inputs on this one, so this setup demands an AVR with a full complement of analog outputs.
No bells and whistles here - this is designed to save you the trouble of setting up seven passive speakers, not to stream, dock, process or anything else. The 7.0 version played plenty loud and provided an impressive sense of depth, if not an actual surround experience, so we'd expect as much from this one. Oval drivers pack more surface area into the low-profile cabinet than could be achieved with traditional round designs.
A new matching 125-watt subwoofer, the SB-900 ($350), updating the previous SB-800 with more power and a revamped limiter circuit, is also offered.
Bose, meanwhile, have brought out a pair of soundbar systems that take a very different approach. The Lifestyle 135 ($2,499.95) and CineMate 1 SR ($1,499.95) systems offer, respectively, everything-and-the-kitchen-sink connectivity options and simple, one-cable setup. Both are powered systems, with subwoofer modules included, and offer easy setup via Bose's ADAPTiQ automated calibration system, but they're aimed at somewhat different needs (and budgets).
The Lifestyle 135 - built around an AVR-like controller module with 4 HDMI inputs, a pair of audio inputs, an iOS dock, an AM/FM tuner, and a universal remote - is meant as a full-featured, easy-to-place HTiB for those who have (or plan to pick up) a number of sources and need a convenient central base from which to manage them.
The CineMate is meant for much more modest home theaters, offering just coaxial and optical digital audio connections, along with a stereo pair of aux analog inputs.