Soundfloat Kickstarter Campaign Sinks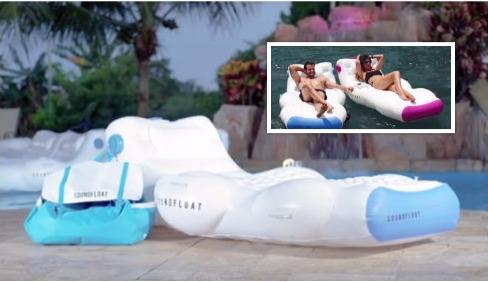 You gotta give the guys at Spika International credit for trying to raise fifty grand on Kickstarter for an "inflatable lounge" with built-in Bluetooth speakers. But after 38 days, the campaign was canceled, having met less than 20 percent of its goal ($9,393).
Spika posted this update on its Kickstarter page: "Unfortunately we are not going to be funded on Kickstarter. Never fear, we are still bringing Soundfloat to market this summer! (We are a stubborn bunch)."
Essentially a high-end pool float (or raft), Soundfloat is described as puncture-resistant and features a memory-foam surface with a cup holder, a waterproof pouch for a phone or tablet, and an integrated waterproof sound system with a pair of side-mounted speakers, 20-watt amplifier, and "simple intuitive controls and LED indicators."
Inflate/deflate time is "within 1 minute" and the Bluetooth sound system supports hands-free calling and includes a detachable 12-hour powerbank for powering the audio system or charging a mobile device.
You can still pre-order Soundfloat on soundfloat.co. Three models are offered: Chair ($149), Lounge ($169), and Double ($249), and the company is honoring its discounted Kickstarter pricing (given here) with the use of the code "kickstarter."
LATEST VIDEO
WHERE TECHNOLOGY BECOMES ENTERTAINMENT