Soundcast Systems Melody Bluetooth Speaker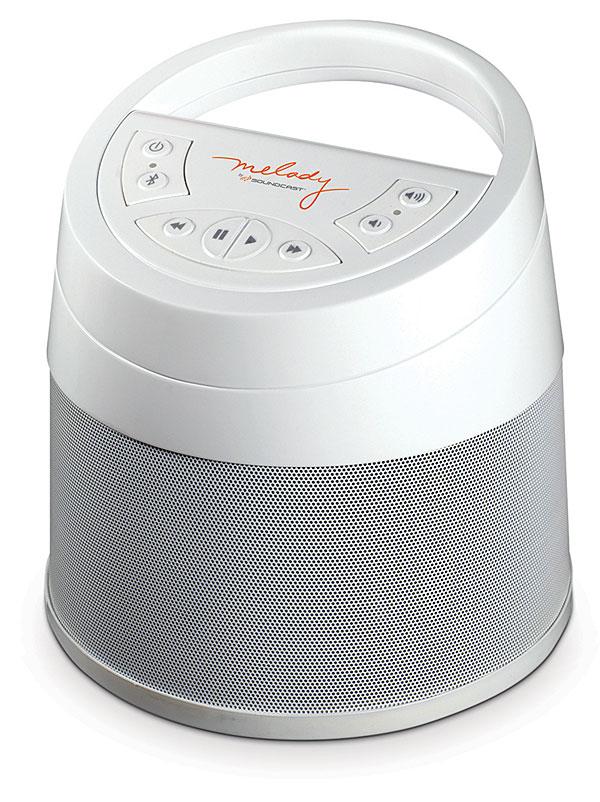 PRICE
$449
AT A GLANCE
Plus
Up to 20 hours of battery life
Water- and UV-resistant
Bluetooth with aptX and AAC
Minus
Not exactly inexpensive (though well worth its price)
THE VERDICT
You'll find plenty of portable bluetooth speakers out there, but you'll search long and hard to find one that's as well built, weatherproof, and good-sounding as this one.
Soundcast Systems' Melody is a category-blender of a product that's difficult to sum up succinctly. It's a mishmash of features that's one part this, one part that, and a couple more parts of another type of thing. But none of that really matters unless you're into semantics, market trends, or trying to do an Internet search for a "take anywhere, everywhere speaker" (as Soundcast likes to refer to it). The important thing is that the Melody has a boatload of stuff going for it; and it's one of those rare audio devices that you're likely to find yourself using for applications and situations you originally had no idea it would be ideal for.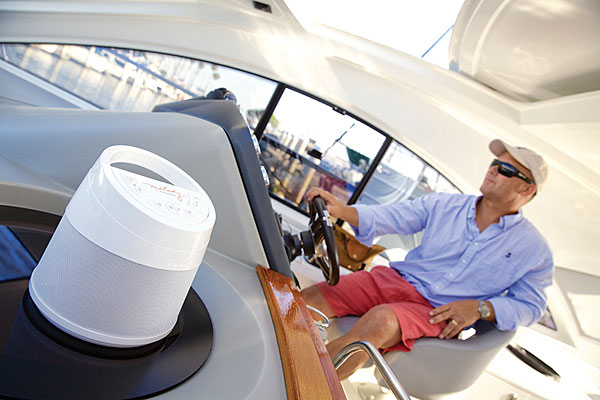 No Bluetooth Decay
The not-so-elegant description for Soundcast's Melody is that it's an all-weather, indoor/outdoor, portable, rechargeable, cylindrical, wireless speaker system with 360-degree sound dispersion, a built-in carrying handle, and playback controls. (It really rolls off the tongue, doesn't it?) If you're familiar with Soundcast, you could think of it as a smaller version of the company's outstanding (yes, literally and figuratively) OutCast and OutCast Jr. weather-resistant, wireless speakers; but, in some ways, the Melody is more than that. At 25.4 and 16.4 pounds (respectively), the larger speakers are definitely "portable." On the other hand (oh, the puns just keep coming), the Melody's 9-inch diameter, 9.5-inch height, and 8-pound (dry) weight easily make it a "tote-able" speaker.
Another "less is more" difference is that rather than the excellent-but-proprietary iCast wireless technology Soundcast uses in the OutCast lineup, the Melody uses Bluetooth connectivity that includes both aptX and AAC lossless codec support—codecs that, if supported by your Bluetooth-enabled source device (iOS, Android, etc.), can actually transfer high-fidelity sound (imagine that!) over Bluetooth. Another benefit of Bluetooth connectivity is that you can use the rubberized volume and function (Play, Pause, Next, Back) buttons on the top of the Melody to control music apps such as Rhapsody, Pandora, iTunes, and a bunch of others on your iOS or Android device without having to dig your smartphone out of your pocket. The Melody also includes a 3.5mm analog stereo input jack for Bluetoothless devices. The jack sits next to a micro USB charging port—both of which are covered by a weather-resistant port protector—located under a rounded carrying handle that's a structural part of the speaker's outer cabinet (i.e., no hinges to break.) The Melody comes with a 12-volt auto adapter, a wall-plug adapter, and a USB charging cable to top off the "up to 20 hours of playtime" internal lithium-ion battery. Behind the wraparound grille are four full-range 3-inch drivers coupled to four passive radiators.
Wonderlust
Overall, there are two extremely impressive things to note about the performance of Soundcast's Melody. First and foremost, it sounds great, with a surprising amount of bass and a very natural high-frequency response— regardless of whether the Melody was sitting close by on a desktop or countertop or parked outside on a patio or directly on the ground much farther away. The output is truly omnidirectional, with a good amount of stereo separation, although as you walk around the Melody, the left and right channels will gradually switch sides. The second and equally important point about the Melody was that it sounded so good and was so convenient to carry and operate, I wound up using it—a lot—both indoors and out. In fact, it was so enjoyable and fun to use that I fired up the Melody much more often and in more places than was strictly necessary for review purposes.
Conclusion
As uncategorizable as it may be, Soundcast Systems' Melody "take anywhere, everywhere wireless speaker" is exactly that. It's a fabulously designed and engineered speaker that absolutely trounces other speakers in its price range that can't do even half of what the Melody does. It's a rare and wonderful (wander-ful, even) product that performs remarkably well—way beyond expectations. Highly, highly recommended.