Sony WF-1000XM4 Noise-Canceling True Wireless Earbuds Review
PRICE
$280
AT A GLANCE
Plus
Best-in-class sound reproduction
Sony 360 Reality Audio
Excellent noise canceling
Small buds and case
Long battery life
Minus
Requires deep ear tip insertion
Complicated app, noise canceling options
Doesn't block wind noise
THE VERDICT
The WF-1000XM4 is Sony's best-performing noise-canceling bud yet, with plenty of customizable and automatic features.
Sony's new flagship true wireless earbuds, the WF-1000XM4 ($280), provide best-in-class sound quality and noise-canceling, above-average single-charge battery life, a compact and pocket-friendly charging case, and a control app that offers abundant operational features and customization options. On top of all that, it has Sony's 360 Reality Audio capability for getting enveloping sound from select subscription music streaming services.
But are the 1000XM4 the best buds available, especially when compared with the similarly high-priced and similarly high-quality Bose Quiet Comfort (QC) model reviewed in our 2021 True Wireless Earbuds Face-Off? That all depends on the environment in which you'll be wearing them, as well as the level of control you're seeking.
Ergonomics
At around 2.5 x 1.5 x 1.1 inches, Sony's charging case is among the most compact I've seen, and the buds themselves are light and easy enough to pluck out and replace in the case. I was disappointed to find that Sony includes just small, medium, and large foam silicone tips. Many less-pricey buds from other companies come with a wider variety of ear tips, nearly guaranteeing a comfortable fit. Sony suggests you "gently twist until [the buds] are snug in your ear," which can entail a lot of twisting and wedging to get a solid noise-isolating seal. Once wedged in, the Sony buds felt like corks plugged into my ears. Not uncomfortable, mind you, but my ears did feel relieved when I removed them after several hours of listening.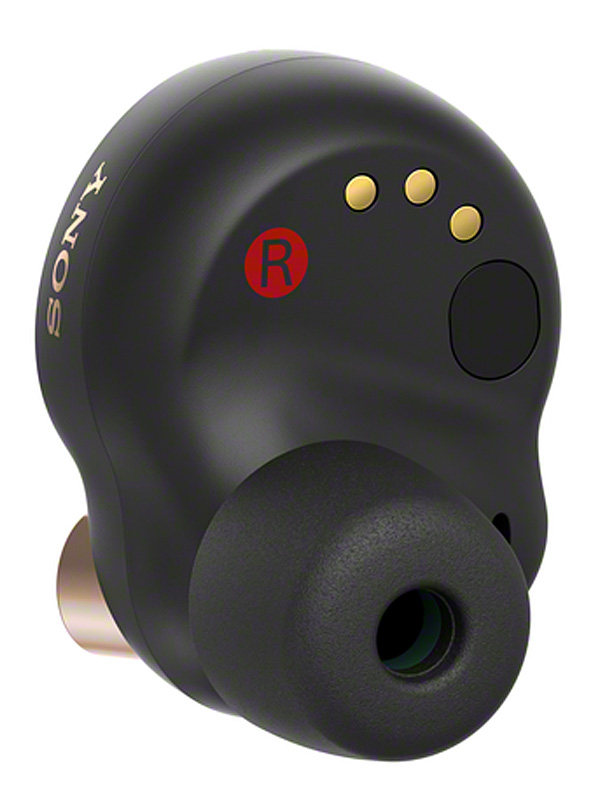 While not waterproof, the 1000XM4 buds are IPX4 water-protected, so sweat or a little rain won't hurt 'em. They provide 8 hours of noise-canceling listening and 12 hours with noise-canceling off. You get up to 16 more hours from case recharges, which take 90 minutes, and a quick 5-minute charge yields an hour of playback. All these specs are above-average for true wireless earbuds.
Features
Sony's Headphone app offers an often-dizzying array of noise-canceling customization options. Adaptive Sound Control, for instance, is designed to detect, learn, and automatically switch between sound modes based on your activity or location. But when I tried pausing music playback with noise-canceling on to cut off airplane cabin engine hum to get complete silence for sleeping—a common use for noise-canceling headphones—the 1000XM4 figured I paused the music to hear an announcement, automatically switching to Ambient sound mode.
You can adjust the volume of Ambient sound on a sliding scale from 1 to 20, but the difference between minimum and maximum are not as extreme as that numerical range suggests. A "Focus on Voice" option enhances the sound of people speaking. The 1000XM4 also provides status and battery life voice prompts, though in barely audible sotto voce.
Speak-to-Chat automatically pauses music playback when you speak so you won't have to remove the buds out to hold a conversation. Music playback resumes automatically, but not until after you've stopped yapping for 15 seconds, which can seem like an eternity.
Different sets of tap-touch combinations for Ambient sound/noise-canceling, playback, and volume control can be assigned to each bud, though you can't add volume unless you sacrifice playback or noise-canceling. You do get to choose from eight EQ presets, and a handy five- bar EQ lets you make manual adjustments and store two of your own custom presets.
Nearly all of the 1000XM4's customizable options and features are accessible only via Sony's iOS or Android app. Clearly, these buds are designed expressly for pairing with a smartphone and are not intended or recommended for use with a standalone digital audio player (DAP). They may not even successfully pair via Bluetooth with a standalone DAP, even one made by Sony.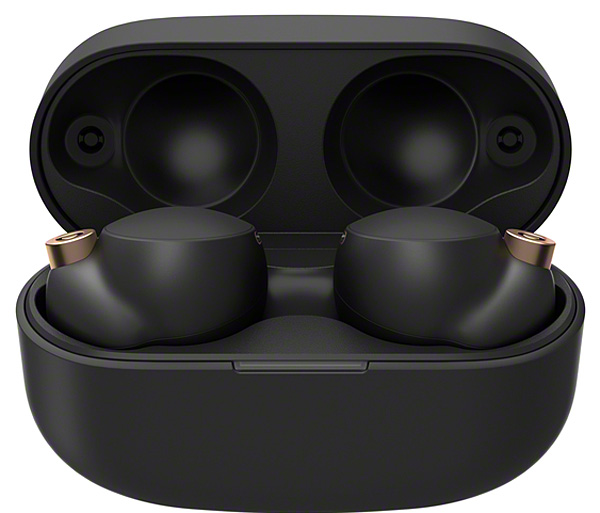 Performance
To my ears, the Sony WF-1000XM4 ranks alongside the Bose QC as the best-sounding noise-canceling bud option available. Both sets supply a wide, airy soundstage and plenty of even-tempered bass, and their response is detailed enough to draw out subtle nuances in music. The Sony's sound presentation is more internally focused, with music seeming to exist within your head. The Bose QC, in contrast, presents a more ephemeral, enveloping soundstage, as if the music is coming from all around you.
The 1000XM4's biggest aural advantage over the Bose is 360 Reality Audio, available on the Tidal, Amazon Music HD, 360 by Deezer, Artist Connection, and nugs.net streaming services. (For some reason, Sony provides a separate Music Center app that combines access to both your on-device library as well as Sony-compatible Hi-Res or 360 Reality Audio music steaming services.) With this, previously two-dimensional sound suddenly surrounds and envelops you, and it's especially effective for newer music mixes that lend themselves to 360-degree manipulation. Classic rock tracks remixed into 360 Reality Audio are hit-and-miss: the often echoey in-the-studio sense you hear can be fascinating, but it's not how I remember these classic songs sounding.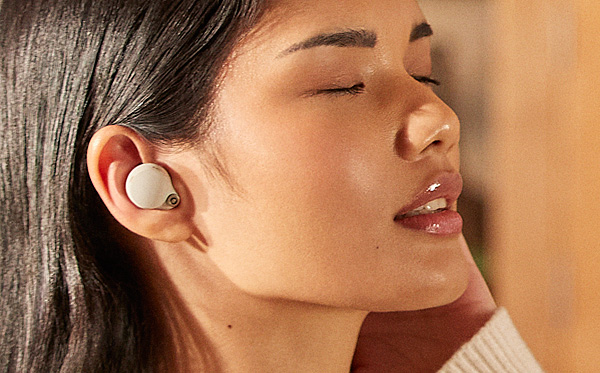 Sony continues to raise the bar for filtering out ambient sound, with the 1000XM4 eliminating more external noise than nearly every other noise-canceling bud I've auditioned. But the 1000XM4 has the same flaw I've encountered in all noise-canceling buds save the Bose QC: wind noise. You'll hear some whooshing through the external mics if you're walking through 10MPH or higher gusts, or especially when bike riding or running outside. Sony's Ambient Sound Control lets you turn noise canceling on and off and switch between plain noise canceling and automatic wind noise reaction, but I couldn't detect a difference between the two.
Conclusion
If you are actively out and about for lengthy periods, the Sony WF-1000XM4, with its lengthy battery life, compact form factor and charging case, wide range of customizable setup and EQ options, and 360 Reality Audio, is quite possibly the top true wireless bud option—if you steer clear of the wind. It's by far the best-performing noise-canceling bud Sony has yet produced, which is saying quite a lot.