Sony VPL-VW50 Front Projector: On the Bench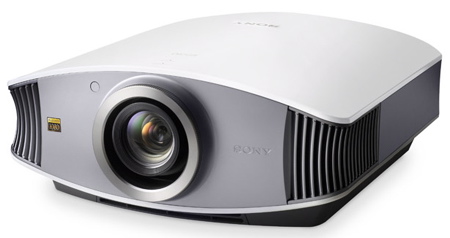 $5,000
1920x1080 threee-chip SXRD
Key Connections: Dual HDMI inputs, two component inputs, one RGB on 15-pin DSUB, one Ethernet
Features We Like:
Full 1080p that not only accepts 1080p/24 signals, but displays it at frame rate that direct multiples of 24 for smoother motion, dynamic iris for deep blacks, uses less expensive lamp than previous SXRD PJs, and did we mention the price?
Features We Miss: Please.
Sony pretty much owned CEDIA 2006 as of day one when this projector was officially announced. Although the $5K price of this projector is a full 50% lower than Sony's previous SXRD PJ, the Ruby, it's a hot looking projector with an outstanding feature set. In addition to being a full three-chip 1080p rig with a dynamic iris, it also accepts 1080p/24 signals displays them at 96Hz, a direct multiple of film's 24fps frame rate for smooth motion. Heck, even the replacement lamps will be cheaper. It's safe to say that there isn't a more highly anticipated projector in the world right now. Shipping now, and tune in to HT's June 2007 print issue to see how the Pearl fares in a projector roundup with other hot 1080p projectors.
WHERE TECHNOLOGY BECOMES ENTERTAINMENT