Sony VPL-VW285ES LCOS Projector Review Test Bench
Test Bench
Full-On/Full-Off Contrast Ratio in HD/SDR: 5,025:1
Measurements were produced with CalMAN calibration software from SpectraCal, Photo Research PR-650 and Klein K-10A color meters, and a Murideo pattern generator. The settings I used are here. The chart shown is for HD/SDR.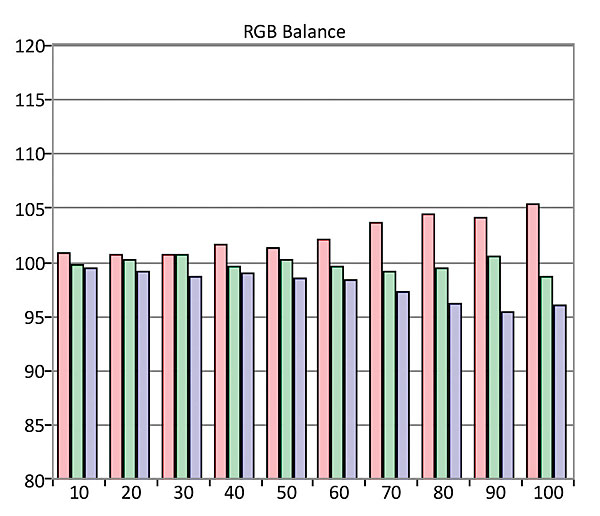 The peak white reading for the above contrast measurement was 20.1 foot- lamberts (68.9 nits), and the black level 0.004 ft-L (0.0137 nit). At maximum zoom (the largest image), the full-on/full-off contrast ratio measured 3,833:1; at minimum zoom, 3,788:1. (For these measurements, the projector and meter positions were unchanged, but the lens shift was altered as needed to center the measurement point on the screen.)
For HDR, as viewed, the full-on/full-off contrast ratio measured 2,763:1 at a peak white level of 38.7 ft-L (132.64 nits) and a black level of 0.014 ft-L (0.048 nit).
Set to 2.4, the SDR gamma measured a minimum of 2.26 at 20%, increasing gradually to a maximum of 2.43 at 80%. The white balance SDR Delta E values, from 20% to 100%, measured a minimum of 1.29 at 60% and a max- imum of 3.0 at 100%. After SDR cali- bration, the maximum was 1.92 at 20%. Pre-calibration, the SDR color Delta Es were all under 2.93—so for SDR, the Color Correction (CMS) controls weren't used.
(Delta E is a figure of merit indicat- ing how close the color comes to the standard at each point in the bright- ness range. Values below 3—some experts allow for 4—are generally considered visually indistinguishable from ideal. From 3.0 (or 4.0) to 10.0, most viewers will notice the deviations but not likely find them objectionable.)
The grayscale Delta Es are typically high in HDR because they often include not only the white point but also luminance errors, the latter significant in HDR. But after calibra- tion, and apart from the region between 50% and 60%, the actual x/y white-point coordinates were very close to the optimum (D65), and all the colors (apart from green, which deviated significantly by measurement but not in a way easily detected by eye) closely matched their target coordinates.

As with all other UHD/HDR displays we've tested, the Sony falls well short of full coverage of BT.2020 wide color. But since all UHD sources we know of are still originally mastered at P3, what counts, for now, is how fully a display's BT.2020 color container is filled to the "P3 level." The Sony comes very close to that level in yellow and magenta at all stimulus levels, is good in blue, red, and cyan, and is poor by mea- surement (though visually acceptable) in green.
The peak HDR brightness on screen actually increased slightly from the 136.2 nits measured with a 10% white window to 145 nits at 25%, 144 nits at 50%, and 140.5 nits at 100%.—TJN