Sony UBP-X800 Ultra HD Blu-ray Player Review Page 2
I'd rank Sony's remote control squarely between the ones included with Panasonic's DMP-UB900 and Samsung's UBD-K8500 players. While it lacks the former's large, fully backlit keypad, the buttons on the surface of Sony's compact remote are generally easy to locate, even in a dim room—something that isn't the case with Samsung's handset. There's a big white-and-red button that takes you straight to Netflix, as well as a Display button that calls up the following onscreen stats: video resolution and frame rate; HDR/SDR designation; soundtrack format, sample rate, and data transfer rate; and video encoding format and variable data transfer rate.
Sony's Video and TV SideView iOS/Android app offers a solid alternative to using the remote. The app's Remote Control mode duplicates all key features on the handset, while its Navigation Pad, Cursor, and Keypad modes provide enhanced functionality for things like browsing onscreen lists in apps or entering text in search windows. There's even a List mode that displays all available apps in your Favorites list.
Setup
To test the UBP-X800, I connected its HDMI 2.0a output to a Vizio M65-D0 Ultra HDTV and its secondary, audio-only HDMI output to an Anthem AVM 50 preamp/processor. I used a Netgear Orbi 802.11ac router for my wireless connection, which easily streamed 4K-resolution Netflix and other programs to the player's dual-band Wi-Fi receiver. UPnP media server software used for testing the Sony's DLNA renderer function was JRiver Media Center 21 for Mac OS X.
After selecting the 4K option in the Screen Settings submenu (other options let you select Auto or a fixed resolution ranging from 480i up to 4K), I enabled the player's 24p and HDR output settings. HDMI Deep Color Output was set to Auto, Display Type to TV, and YCbCr/RGB to Auto. (Other options for that last setting include YCbCr [4:2:2], YCbCr [4:4:4], and RGB.)
For Audio setup, I set BD Audio Mix to Off, which allowed the player to send Dolby Digital and DTS bitstreams to the Anthem pre/pro. I also set the DSD Output mode to Off so the player would output multichannel PCM signals over HDMI when playing SACDs. Although I didn't test this feature, I should mention that the Sony can be configured to stream audio via Bluetooth to wireless headphones and speakers.
Performance
The UBP-X800 sailed through our full suite of video processing tests, which puts it in the company of the Panasonic DMP-UB900 (see my review in our February/March issue), as well as Oppo's UDP-203. Comparing its performance with the Panasonic player's, the Sony held up extremely well when upconverting 1080p material to 4K resolution. For instance, when I watched the chapter "Innocence" from the standard Blu-ray of Tree of Life, a close-up shot of an infant's face clearly revealed the smooth, powdery, slightly fuzzy texture of the child's skin. In contrast, the fine lines in mom's ribbed coat looked solid, and there was no hint of edge enhancement or other noise.

The Sony also compared favorably with the Panasonic when playing animated content. When I viewed a scene from the Blu-ray of The Lego Movie where Vitruvius escorts Emmet into his mind to convince him of his ability to become a Master Builder, the translucent Lego landscape had a finely textured look, as the highlights on the computer-modeled plastic pieces glistened with detail. The Panasonic's more comprehensive range of detail-enhancement and noise-reduction adjustments did give me more flexibility to tweak images when watching standard Blu-rays and DVDs. Nonetheless, I still found upconverted Blu-ray picture quality to be convincingly 4K-like with both players.
Of course, Ultra HD Blu-ray playback is the main attraction here, and the UBP-X800 delivered on that front as well. When I watched Passengers, the picture looked stunningly detailed and displayed a subtle color range. In a scene where Jim first encounters an android bartender at the spacecraft's bar (a set-piece copped straight from The Shining), the glow from the backlit bar surface created a warm, radiant atmosphere that was eerily at odds with the otherwise sterile, high-tech environment. When Jim later exits the spacecraft to do some sightseeing, the powerful contrast between the lights on the ship's exterior and the black expanse of space lent the scene emotional weight—and it was also one of the more dramatic HDR examples I've experienced.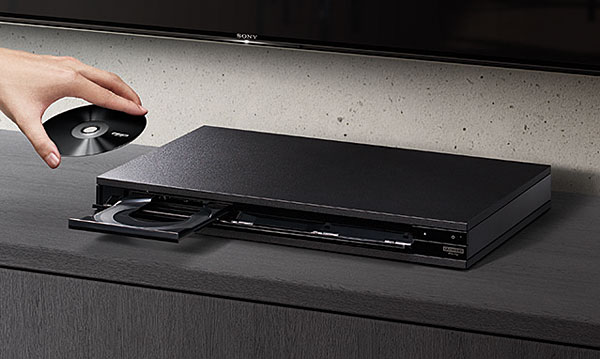 Jessica Jones, a Netflix series based on a Marvel Comics character, provided another good HDR showcase for the Sony. In a scene from episode 1 where Jessica enters the offices of a high-powered attorney, the contrast between sunlight streaming through the floor-to-ceiling windows and the dark furniture lining the office gave the image a striking, near-3D look. The streamed 4K-resolution picture was noise-free, though its crispness looked about on par with that of regular 1080p Blu-ray.
My evaluation of the Sony's Blu-ray 3D playback was limited to confirming that it worked, which it did. With no digital-to-analog audio conversion built into the player, my audio performance tests were also mostly limited to confirming that it would play both multichannel SACDs and DVD-Audio discs. Check and check again. The player worked fine as a DLNA renderer for music streaming when linked to my network via a wireless or wired connection. It also was able to play both hi-res FLAC and native DSD music files from a thumb drive plugged into the front-panel USB port.

Conclusion
Sony's UBP-X800 is a low-cost Ultra HD Blu-ray player that also handles SACDs and DVD-Audio discs. Build quality is impressive for a $300 machine, and it comes with a decent remote plus a comprehensive iOS/Android control app. UHD Blu-rays looked fantastic when played on the Sony, and so did streamed Netflix HDR content and standard Blu-rays; its performance when upconverting those 1080p Blu-rays approached that of pricier models like Panasonic's DMP-UB900. Some might find the Sony's lack of analog audio outputs to be an issue. Others might be troubled by the company's noncommittal stance on Dolby Vision support. But if you're looking for a high-performing player to get you up and running with Ultra HD Blu-ray for not a lot of money, the UBP-X800 is a solid option.