Samsung UBD-M9500 Ultra HD Blu-ray Player Review

PRICE
$400
AT A GLANCE
Plus
Plethora of streaming options
Outstanding picture quality
Dual HDMI outputs
Minus
No 3D support
Flimsy disc tray
No Dolby Vision support
THE VERDICT
This second-generation Ultra HD Blu-ray player delivers exceptional performance and value, especially for heavy Netflix or Amazon users.
I'm in my 13th year of reviewing consumer electronics, and I'm continually amazed at the industry's pace of innovation. In the span of about 20 years, we've gone from bulky, backbreaking CRT displays to flat-panel TVs that hang on the wall, as well as projectors that are smaller than the base of a vacuum cleaner—all at prices that the middle class can easily afford.
Some might argue that progress is occurring too fast and that keeping on the cutting edge is nearly impossible, and I wouldn't disagree. After all, 3D has come and gone in a few short years, and one could make a pretty strong argument that the 1080p delivered from Blu-ray has all the resolution we need for the foreseeable future, given how far the average consumer sits from their display. But 1080p is so yesterday, and the electronics manufacturers need a new hook to get you to upgrade.
Their latest push is with 4K, which in its consumer Ultra HD version is actually 3840 x 2160—four times the resolution of 1080p. Granted, these displays have been on the market for a few years, with one caveat: It was a standard in motion. Thankfully, those days are largely behind us now, and most midline-and-up 2017 models will support the other key features that UHD has to offer—namely, WCG (wide color gamut) and HDR (high dynamic range). If you want to have all your bases covered, though, be sure your new TV takes advantage of both leading versions of HDR: not just HDR10 but Dolby Vision as well.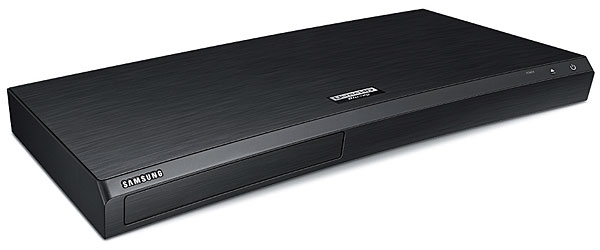 So now that we have rock-solid displays that can show off the latest technology, there's still one ingredient missing: content. Without that, what's the point? As I stated earlier, Blu-ray's 1080p is pretty damn good—but along with the electronics manufacturers, the movie studios need to make a buck, too, so they've come up with Ultra HD Blu-ray as their ultra-premium disc format, in order to sell you their latest blockbuster as well as catalog titles you'll feel obligated to upgrade.
For the majority of releases, Ultra HD Blu-rays offer not only the image benefits associated with the format, but often an immersive, height-enhanced audio track in Dolby Atmos or DTS:X. Furthermore, the discs come with an UltraViolet code to access the movie digitally from your provider of choice (mine is Vudu). What's even more impressive is that some, but not all, studios include a UHD stream. When you take all of that together, the new format is a pretty good value for the premium price.
Of course, in order to play these discs, you need an appropriate machine—and what's amazing is how competitively priced Ultra HD Blu-ray players were right out of the gate. Samsung was first on the block with the UBD-K8500 last year, which Tom Norton rightly rated as a Top Pick. Granted, it wasn't perfect, but at a debut price of $400, it was easy to forgive its horrendous remote and somewhat clunky user interface.
That Didn't Take Long
Here we are a little over a year later, and Samsung's second-generation UBD-M9500 player is here, with the same MSRP of $400 but a street price of $299 from most online retailers. In addition to playing discs, it serves as an entertainment hub that can stream media from your home network, USB drive, or favorite online service, such as Netflix, Amazon, or Vudu, among many more options.
The form factor mostly matches last year's model, with one addition: There's a text display on the face that will flash a message letting you know what action is taking place, such as "Play," "Stop," or "Loading." The disc tray is situated on the left and is somewhat flimsy, but at this budget-friendly price, you can't expect industrial-strength build quality. Manual controls for power and eject are on the right, along with an LED power indicator. And there's a USB port on the right-side panel (which could be problematic to access if the unit is placed inside a rack).
On the rear panel, you'll find a plug for the detachable power cord, an Ethernet port, and two HDMI outputs—a main that outputs both audio and video to a display and a secondary that outputs audio only. This allows users with older AVRs or surround processors that don't support HDCP 2.2 and HDMI 2.0a (which require throughput of 18 gigabits per second) to send the audio to their rig while sending the video to their display. Fortunately, my setup meets all the specs, so I only needed to use the single cable.