Sony NSZ-GT1 Internet TV Blu-ray Player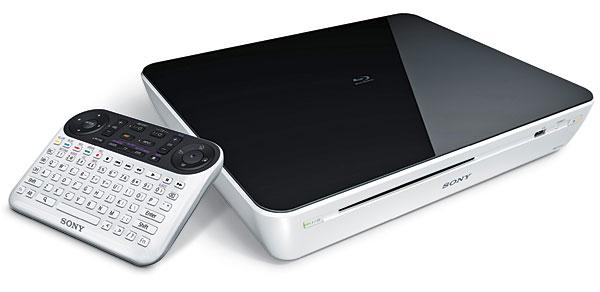 Price
: $400
At A Glance
: Google TV and Wi-Fi • Speedy loading of Blu-ray Discs • Ergonomically challenged remote control
Blu-ray meets Google TV
Cofounders of Google, Larry Page and Sergey Brin, met while attending Stanford University in the 1990s. While they were working on a computer science project, the pair created the Google search engine, which now enjoys a 65-percent market share in the United States and over 80 percent in Europe.
As a business, Google generates the majority of its revenue from advertising, but in recent years, it has ventured into other areas, including PC and mobile applications, operating systems, and now home entertainment with Google TV.
Google TV strives to deliver a new experience by bringing your TV and Internet together. It gives its users access to more entertainment options, and its powerful search capabilities make it easier to find what you want to watch. Two of the first products to incorporate Google TV are the Logitech Revue and Sony's Internet TV Blu-ray player (NSZ-GT1). While both are based on the same platform, Sony ups the ante by including a Blu-ray player with a $100 price premium. While Kim Wilson explored the virtues of Google TV in our February 2011 issue, I'll take a look at the NSZ-GT1's Blu-ray capabilities and see how a Google TV–powered player stacks up against the other streaming Blu-ray players on the market.
The Goods
The Sony looks like the offspring of a PS3 and a Wii. Its enclosure is gloss white with a glossy black top, also known as a fingerprint magnet. The non-standard dimensions (13 by 2.3 by 9.8 inches) means you won't be stacking other equipment on top of the unit, which is a minor inconvenience. The sparse front panel includes a slot-loading Blu-ray Disc drive, a USB input, and Eject and Connect buttons.
The unique rear panel sports a mini-plug for the included IR blasters, an HDMI 1.3a input (for Google TV), S/PDIF (TosLink optical only) and HDMI 1.3a outputs (this isn't a 3D-capable BD player), a LAN port, three USB inputs, a cooling fan, and the power input. Sadly, the unit lacks an internal power supply, so you'll have to deal with a power brick—not very convenient.
Inside is a 1.2-gigahertz Intel Atom processor with 8 gigabytes of onboard memory, making the NSZ-GT1 Blu-ray player BD-Live enabled. As an added convenience, the unit includes 802.11 a/b/g/n Wi-Fi, so if you don't have an Ethernet cable run to your equipment rack, you can still access the online content over your home's wireless network.
The NSZ-GT1 internally decodes Dolby TrueHD and DTS-HD Master Audio soundtracks and sends them via HDMI as PCM to your A/V receiver or surround processor. It can also pass the raw bitstream (sans the secondary audio for PiP and the clicks and beeps in Blu-ray Disc menus). Since the unit lacks analog audio outputs, owners of legacy AVRs and surround processors without HDMI inputs won't be able to enjoy Blu-ray's lossless audio formats. However, the Sony will downconvert the signals and output them over S/PDIF (not as full lossless audio).
In addition to Google TV, this Internet appliance includes a wide assortment of applications, in-cluding Netflix, Napster, YouTube, Pandora, Twitter, NBA Game Time, and Amazon VOD. The player also offers Qriocity, Sony's proprietary video rental streaming service. The included Google Chrome browser lets you surf the Net from the comfort of your couch, using your HDTV as a giant computer monitor. Additional network functions let you access photos from a DLNAcertified client such as TwonkyServer and videos, music, and photos from a UPnP client.