Ayre Acoustics DX-5 Universal A/V Engine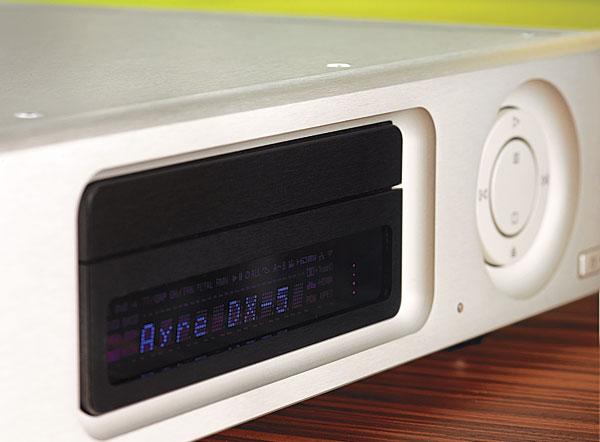 Price
: $9,950
At A Glance
: Breathtaking picture and sound with all 5-inch silver discs • State-of-the-art audio performance with USB audio • No 3D
The Last Great Silver Disc Player?
The era of 5-inch silver disc players began in the 1980s, and it isn't over yet. But even quality-driven, Blu-ray- and CD-playing dinosaurs like me are compelled to admit that there are fewer days ahead for the disc player than there are behind it. The Ayre Acoustics DX-5 Universal A/V Engine ($9,950) builds a bridge between yesterday and tomorrow. The DX-5 is a universal disc player. It plays CD, SACD, DVD-Video/Audio, and Blu-ray Discs. But it's also a cutting-edge digital-to-analog converter for digital audio files from a variety of sources, up to 24-bit/192-kilohertz. Its supertrick analog audio outputs are stereo only, so the only people who need apply are extreme videophiles and two-channel audiophiles who want a reference-quality universal Blu-ray player and state-of-the-art playback of digital audio files. The DX-5 is loaded with crucial and daring proprietary technology, and it's the best-sounding, most versatile digital source component I've had in my system. The price tag? Who cares. Don't you want to know more?
The Jedi of Audio
Based in Boulder, Colorado, Ayre Acoustics is a refreshingly unique high-end audio company that builds some of the world's finest components in the most principled of ways. The company's president and chief designer, Charles Hansen, has philosophies and design principles that are immutable at Ayre. Ayre designs and builds fully balanced solidstate components that don't use negative feedback. Indeed, if there's a devil in Charlie's dreams, it's feedback. The company has a history of being absurdly expert and inventive with both analog and digital components. For years, my reference system has used Ayre's MX-R monoblock power amplifiers and P-5xe phono stage. I've also owned and used a number of Ayre's disc players, all of them superlative. The D-1 CD/DVD player was groundbreaking; it's still the best CD player I've heard and the best DVD player I've seen. Considering its provenance, something like the DX-5 seems inevitable.
The DX-5 Inside and Out
The DX-5 is based on the disc drive mechanism and video decoding board from the OPPO BDP-83. Everything else is designed and/or implemented by Ayre, including the power supplies, DACs, digital filters, and analog audio output sections. While an OPPO BDP-83 weighs 11 pounds, the DX-5 tips the scales at a fighting weight of 23 pounds—with only a bit of that in the aluminum chassis. Take a look at the pictures of the OPPO and Ayre innards below. Not a lot in common, is there? Along with providing universal disc playback, the OPPO drive and video board make for a swift, responsive experience and save Ayre from the rat race of Blu-ray firmware updates. OPPO is as swift as they come at delivering timely updates, and it manages this process for Ayre. The only obvious downside of the DX-5's OPPO roots is that the disc tray is flimsy and a letdown in the context of the DX-5's otherwise superlative fit and finish. But that doesn't affect its performance one teensy bit. The video board also houses Anchor Bay's video processing and deinterlacing solution, which is unquestionably one of the best out there, as our Video Test Bench results indicate. One thing this solution doesn't do is 3D, which Ayre doesn't consider critical to its market. When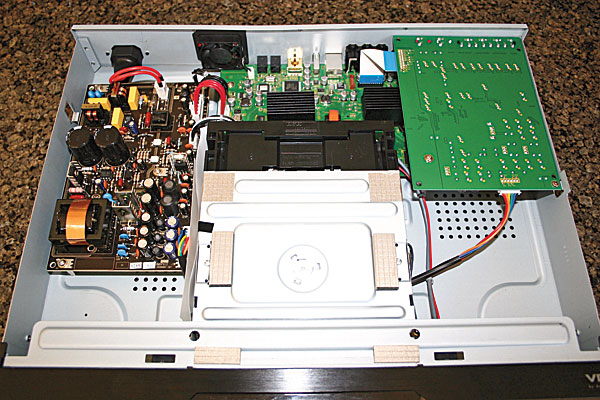 I asked Hansen about 3D, he replied that those who care could buy an inexpensive mass-market 3D player and "use that when they want to watch Avatar." I'd agree that those who can afford this player could afford that second cheapie for 3D.
The DX-5's backside has an HDMI audio/video output, as well as a second audio-only HDMI output. Ayre recommends that you make a direct video connection to the display and use this dedicated HDMI audio connection to your A/V receiver or surround processor. That's how I hooked it up. The only analog audio outputs are a stereo pair of balanced XLRs and a pair of single-ended RCAs. There's also an Ethernet connection for BD-Live and firmware updates, an AES/EBU digital audio output, and a USB audio input.
The USB audio input is perhaps this player's single most compelling audio feature. While SACD and DVD-Audio are mostly consumer electronics cautionary tales, computer audio is now a global phenomenon, as evidenced by the hundreds of millions of people worldwide with iTunes libraries on their computers. The DX-5's asynchronous USB transfer mode can turn your computer into a high-end digital audio source that uses iTunes for library management. More on that in a bit.
In the analog domain, the DX-5 is totally Ayre-ified. The analog output section is designed with the same zero-feedback, fully balanced discrete circuitry that Ayre uses in its reference KX-R preamp and MX-R monoblock power amps. They refer to this circuit as Equilock. Ayre uses its own discrete, non-switching power supplies for the audio and video circuits and takes additional steps to isolate the video and audio sections, including the digital and analog circuit paths, as much as possible. Each dedicated power transformer also uses proprietary Ayre Conditioner RFI filters.