Review: Oppo BDP-93 Blu-ray player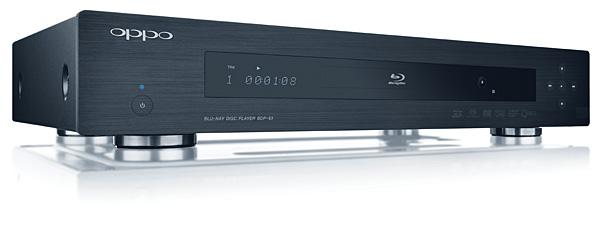 Key Features
$499 oppodigital.com
• 3D-capable • Plays SACD/DVD-Audio discs • Outputs DSD over HDMI • Decodes FLAC • Streams Netflix and Blockbuster Video on Demand • DLNA certified/streams audio, video, photos from networked computers • Wi-Fi-ready (comes with wireless adapter) • Subtitle shift feature for 2.35:1 projection screens • Connections: (2) HDMI; component- and composite-video; optical and coaxial digital and 7.1-channel analog audio; (2) USB, e-SATA, and LAN ports; RS-232C port and IR input • 16 x 12.2 x 3.1 in / 10.8 lb
With A/V streaming gaining ground on packaged media, those shiny plastic discs that arrive regularly in your mailbox might soon become a thing of the past. Physical formats like Blu-ray and CD are likely to stick around for at least a few years; even so, it's probably time to put some thought into what machine you'll use to play your disc collection in the future. Instead of maintaining multiple players, doesn't it make sense to own just one that can handle any media you throw at it? Also, since we're talking about the long haul here, shouldn't you buy a sturdy model that's unlikely to break down after a few short years of service?
Oppo's new 3D-compatible BDP-93 fits the bill on both counts. Its rugged metal case and brushed aluminum faceplate distinguish it from the bulk of other new Blu-ray players, most of which are comparatively flimsy. And along with Blu-ray and DVD, its long list of compatible disc types includes CD, SACD, and DVD-Audio. The only other thing you could ask for would be region-free DVD playback — a capability (as long as you knew the remote-code hack) of some previous Oppo players that the BDP-93 lacks.
In addition to playing discs, the Oppo is set to play FLAC, WAV, MP3, and AAC music files, and AVCHD, MPEG-4, DivX, and MKV video ones stored on a connected USB or e-SATA drive. It can also pull them over your wired or wireless home network from computers running UPnP software like Windows Media player or Twonky Media Server. Supported streaming services include Netflix and Blockbuster Video on Demand — a limited selection compared with other BD players, although those two combined should meet the video-streaming needs of most users.
Another thing that the BDP-93 has going for it is a set of dual HDMI ports on its back panel. These will come in handy if you have an older A/V receiver that lacks HDMI 1.4 connections (required to pass Blu-ray 3D signals): Just run a direct HDMI hookup to a 3D TV along with a second connection to your receiver to feed it lossless Dolby True HD and DTS-HD Master Audio soundtracks. Other useful connections include a 7.1-channel analog audio output and an RS-232C port for a home control system.
A rugged player should have a rugged remote, and the Oppo's met my expectations. Its button count is high, but the keypad is fully backlit and the controls are large and logically arranged. Highlights include a dedicated key to change video output resolution and a Pure Audio key that switches off most video circuits when you're listening to music.
Oppo gets props for its well written, informative, and printed owner's manual — an increasing rarity with CE products. I also appreciated the black carrying bag and accessory storage box that came packaged with the player, not to mention the free HDMI cable.