Sony STR-DN1060 A/V Receiver Review
PRICE
$600
AT A GLANCE
Plus
Wi-Fi, AirPlay, Bluetooth
MHL on front and rear
Google Cast, Spotify Connect
Minus
Confusing A.F.D., HD-D.C.S. terminology
THE VERDICT
If you can do without Dolby Atmos in this seven-channel AVR, Sony's well-thought-out wireless functionality and sweet, golden sound are an unbeatable combination.
Let me say this up front: The Sony STR-DN1060 doesn't do Dolby Atmos. Whether this is a serious omission in a seven-channel receiver today is debatable—but I'd say not. Most of the first-generation Atmos receivers have shortcomings of their own. For one thing, they lack the forthcoming DTS:X, the other flavor of object-oriented, height-enabled surround sound. More critically, seven-channel models can offer only Atmos 5.1.2, with two height channels in front or directly above the listener but none in back. That is at best a limited version of the Atmos experience because it doesn't create the full dome-shaped soundfield of 5.1.4.
What the STR-DN1060 does have is built-in Wi-Fi, AirPlay, and Bluetooth—Sony's now customary wireless triple threat. In fact, Sony pioneered what I call the wireless triple threat with the STR-DN1040 and -1050 at the prominent $600 price point, leaving other manufacturers to play catch-up as they replaced their extra-cost dongles with baked-in wireless capability. Let's face it, Atmos fans: Wireless features have a far greater impact on the way music lovers access their digital music libraries than Atmos has on the way movie lovers enjoy surround sound. At least for the moment.
Atmos is an up-and-coming feature, no doubt about it. But Wi-Fi, AirPlay, and Bluetooth are here-and-now features. Let's dry our tears and move on.
Triple Wireless Times Two
The STR-DN1060 is one of two new receivers in Sony's regular (non-ES) receiver line. The other entry is the STR-DN860, which costs $100 less, has a little less power, and slims down the connectivity options—omitting component video entirely. Remarkably, however, the step-down model does include the same triple wireless capability. Sony is determined not to let any wireless-savvy consumers slip through their fingers.
Not much has changed ergonomically in this latest 10-series iteration, and that's a good thing, because Sony nailed ease-of-use issues some time ago. The front panel continues its asymmetrical aesthetic, with volume and source knobs both at right, complemented by sliver buttons that access listening modes and zone controls. The remote remains a marvel of organization, with buttons differentiated by size, shape, color, and placement and unhampered by arcane clutter.
The graphic user interface, with its distinctive tall vertical panels, is still one of the most attractive ones out there. The five panels are Watch, which organizes A/V audio inputs into a separate screen; Listen, which does the same for audio-only inputs; Custom Preset, with combo settings for Movie, Music, Party, and Night; Sound Effects, or listening modes; and Setup. There's also Google Cast, which allows you to play compatible music apps from your phone or tablet, and a SongPal remote app that allows operation of the receiver from an Android or iOS device.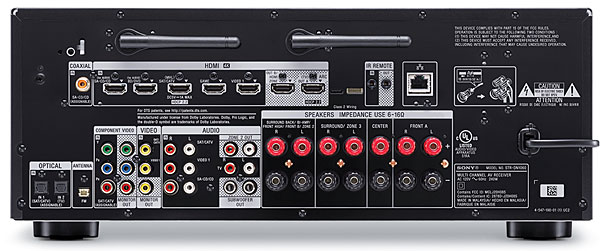 Sony has omitted one of the three HDMI outputs present on the preceding model. However, there are still a half-dozen HDMI inputs, and they include both front- and back-panel MHL-compatible jacks for streaming from a smartphone. Another omission is AM radio, though there is still an antenna input for FM. (I'm always amazed when I unpack an AVR and find an AM antenna. What century is this?!)
In a departure from custom, Sony specifies power into 6 ohms, which results in a slightly higher power rating than the customary 8-ohm spec. That enables this model to be quoted at 100 watts with two channels driven. However, it's also useful information if your speakers have a nominal impedance of 6 ohms. For a more complete picture, see our Test Bench measurements.
Some additional wireless features enrich the triple threat. One is Bluetooth transmission, which allows the AVR to send a signal to Bluetooth headphones for late-night listening. Yet another is Spotify Connect, which delivers the music-streaming service through a Wi-Fi-enabled app on your mobile device.
Sony's DCAC (Digital Cinema Auto Calibration) is said to be newly improved. To my ears—or at least, functioning in my room—Sony's room correction program has always seemed determined to do as little as possible. And really, isn't "do no harm" the first rule of audio medicine? This caution even extended to speaker level settings, which DCAC set at zero for all channels except for a half-decibel cut on my typically overactive left surround channel and a conservative 1.5-dB cut for the subwoofer (versus the 3- to 4-dB cut normally appropriate in my room). My SPL meter typically takes a slightly more activist role, but I left Sony's settings intact, except for a slight downward sub adjustment later in the game.