Sony PS-HX500 Hi-Res USB Turntable Review Page 2
Unlike some cheaper USB output turntables, the PS-HX500's tonearm uses a standard half-inch cartridge mount, so you can make a cartridge upgrade if you wish without too much difficulty. The supplied cartridge is a generic-looking moving-magnet design that tracks at a fairly hefty 3 grams. One thing to bear in mind is that the phono preamp and analog-to-digital converter have been matched to the cartridge's 2.5-millivolt output, so you'd probably want to look for something with a similar output if you do decide to go for a cartridge swap. The tonearm is a basic straight-arm tube design with a non-removable headshell and not a whole lot of adjustment. The headshell has slots so you can adjust the overhang, and as mentioned earlier, you get an adjustable counterweight and anti-skating control. But there's no height adjustment for the arm to fine-tune the vertical tracking angle or any type of azimuth adjustment. That's not such a big deal at this price level, although some of the Sony's competitors do include these little refinements.
Recording
The PS-HX500's digital output is designed to only interface with Sony's own Hi-Res Audio Recorder software, which you can download online. It cannot be opened directly using a third-party audio editing app such as Audacity, although you can use the Sony application to record and save PCM files and then open them using other software. This is important to know, because the Hi-Res Audio Recorder has a rather basic feature set. Once you connect the turntable and open the recorder application, you can choose which resolution and digital format you want to use for recording. This decision will depend somewhat on what device you plan to use for playing back the files. To play DSD files, you'll obviously need a player or DAC that can handle this type of file. Sony can help here, as they offer a pretty wide range of DSD playback devices such as their ZX2 Walkman and HAP-Z1ES and HAP-S1 home players. If your gear isn't DSD capable, you can also record WAV files in a wide range of PCM resolutions, from CD-quality 44.1-kHz/16-bit, all the way up to 192-kHz/24-bit.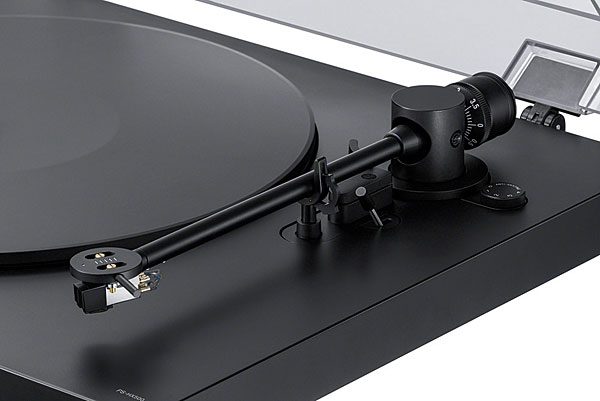 To digitize an entire album, you record each side in its entirety, pausing the recorder as you flip the record over. Once both sides are complete, you can use the editing controls to add track split points and remove any unwanted bits. At this point, you also add metadata such as artist, album, and track information; unlike when you're ripping CDs on iTunes or other library management software, this is a strictly manual process. Once everything is done, you can save the complete album as separate files in a folder on your hard drive or export it to a playback device.
While we're on the subject of playback, I should point out that the Hi-Res Audio Recorder won't allow you to play back your recorded files once you have edited and saved them. However, software players for PCM WAV files are easy to find online, often for free. For DSD it's not so simple. For Windows users, Sony recommends their own free Media Go player, which can handle all of the formats the PS-HX500 can record in, although you will still need a DSD- capable digital-to-analog converter to play them in their native format.
One key feature that the Hi-Res Audio Recorder doesn't give you is any way to employ noise reduction like declicking or a way to adjust the volume level of the recordings. This inability to easily edit or alter the sound of a recording has long been a limitation of DSD recording, so unless you want a literal copy of what's on your records, you're going to be better off recording in PCM. That will allow you to open the files in a program like Audacity, which includes a wide range of noise-reduction and volume-normalizing features.
Playback
Before I got down to recording, I used the PS-HX500 as if it were a regular analog turntable, sending its signal into the phono input of my Integra A/V receiver, which was driving my PSB Synchrony One speakers. The first thing that struck me was how quiet it made my records sound, with very little surface noise, even from less than perfect records. Despite its humble looks, the supplied cartridge is a pretty smooth performer, delivering a rich and vivid sound from jazz bassist Howard Rumsey's Music for Lighthousekeeping album. Stan Levey's drums and cymbals were detailed and clean, and Conte Candoli's trumpet had plenty of bite, anchored by Rumsey's tuneful bass playing. Even if you don't consider its digital features, the PS-HX500 delivers great bang for the buck as a regular turntable.
Next I flipped the little switch on the back so I could use the internal phono preamp and ran the PS-HX500 into a normal line input on the Integra. I found that I actually preferred the sound running this way, as it provided a little more dynamic punch and was tonally a bit more vivid compared with the Integra's phono stage. That's great news, as it means you can interface the turntable with pretty much any type of audio system without having to invest in an outboard phono preamp. Bill Laswell's Hear No Evil is a wonderful album of world music grooves featuring the Indian electric violinist L Shankar, and tabla player Zakir Hussein. Played on the PS-HX500, it had a relaxed, open sound that could really draw you into the performance. I was definitely experiencing the phenomenon you get most frequently from vinyl playback, where you simply don't want to turn it off.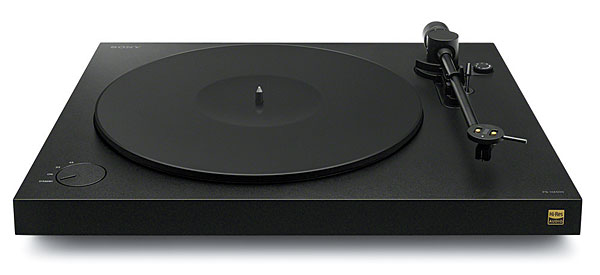 Finally, I tested the PS-HX500's main feature, comparing how various types of digital recordings from its USB output compared to the direct analog signal. Because the PS- HX500's digital output is there strictly for recording from the turntable and doesn't allow direct playback through a separate DAC, I connected the PX-HX500 to my PC and ran the PC into a DSD-capable Celsus Sound Companion One DAC. I then connected the Companion One's line-level output to another input on the Integra receiver, allowing me to make simple comparisons.
Overall, the digitized turntable signal still delivered the same quiet surfaces and vivid tonal colors as the direct analog sound, and even at 44.1 /16 resolution, the sound was superb. Switching to higher-resolution recording resulted in a slightly broader tonal range, but the differences were not big. Both single- and double-speed DSD recordings had a slightly more open and natural quality, but their somewhat lower playback levels made direct comparisons tricky. Perhaps a more exotic cartridge would make the benefits of high- resolution recording less subtle. But I was surprised by how much of the vinyl's quality was preserved in the digital playback—which begs the question of what we're actually hearing from our records.
Conclusions
Digitizing your record collection can be a pretty tedious process, especially if the results are not up to snuff. The PS-HX500 takes an idea that has been around for years and updates it with high-resolution performance that lets the quality of vinyl playback shine through. Besides, just imagine the look on a vinyl hipster's face when you tell him you've got an entire vinyl library sitting in your pocket.