Sony PS-HX500 Hi-Res USB Turntable Review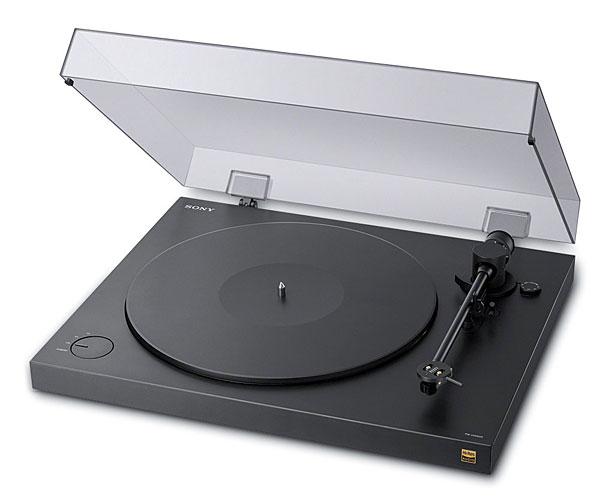 PRICE
$599
AT A GLANCE
Plus
Good-quality manual belt-drive turntable
Built-in hi-res analog-to-digital converter
Built-in phono preamp
Simple user setup
Minus
Additional software needed to play recorded files
Manual metadata collection for recorded files
THE VERDICT
With analog and hi-res digital outputs, and a built-in phono preamp, the Sony PS-HX500 has what you need to bring your vinyl collection into the 21st century digital world.
Detractors love to say that the current resurgence of vinyl is nothing but a bunch of bearded hipsters with Crosley Cruisers, trying to look cool in their mid-century bachelor pads. There is, however, one surefire way to tell the difference between a fad and a real movement, and that's when the big boys stop snickering from the sidelines and decide to start playing along.
Most of the big consumer electronics companies dropped out of the turntable business decades ago, but suddenly in the last year we have seen ambitious new turntable introductions from big players like Onkyo, Pioneer, Technics, and now Sony. Most of these new offerings look like they could have come straight from the manufacturers' 1989 catalogs, but Sony's latest vinyl spinner, the PS-HX500, has one foot planted firmly in the 21st century. Decent-quality turntables with a digital output have been around for quite a few years—my colleague Mark Fleischmann reported on a USB version of the Pro-Ject Debut back in 2008. But this one is definitely the first that can spit out both high-resolution DSD and PCM digital signals.
DSD or Direct Stream Digital is the digital signal format used for Super Audio CDs (SACD) and is fundamentally different from the more common PCM signal used for CDs and most other forms of digital audio recording. Debating the merits of DSD versus PCM is beyond the scope of this review, and it's a moot point anyway, because in addition to DSD, the PS-HX500 can also deliver PCM signals in various quality levels all the way up to 192-kilohertz/24-bit high resolution.
Connect the PS-HX500 to a computer running its companion Hi-Res Audio Recorder software for Windows or Mac OS X, and you can turn your records into digital files that you can play on your audio system or take with you on the road in a personal music player. That's a whole lot easier than lugging a portable record player and a pile of hip vinyl around with you.
Of course, the basic appeal of vinyl is its ability to bring us back to a pure analog world, so naturally, the PS-HX500 can also function as a standard analog turntable delivering either a cartridge level signal that you can connect to your phono preamp– equipped amplifier, or through its own built-in phono preamp at line level. You can even connect both the digital and analog outputs simultaneously, allowing you to record your records onto a computer while listening to them through your hi-fi system.
Setup
If you went back some 35 years to a time when turntables still ruled the audio world, you'd discover that you could go to your local hi-fi emporium, pick out a turntable and cartridge, and the resident turntable guru would put it all together and align it for you. More recently, turntable manufacturers have realized that most people these days buy their turntables online, and most of us don't have a friendly analog expert to help us out. The upshot is that any sub-$1,000 turntable really needs to be pretty easy for even a novice to put together correctly.
The PS-HX500 achieves this by arriving with a pre-installed moving-magnet cartridge that's already fully aligned and ready to go. Out of the box, all you have to do is install the platter while looping the rubber drive belt around the motor pulley and then top it off with its thick rubber mat. For the tonearm, you just put on the counterweight, balance the arm, and dial in the tracking force. The manual takes you through the steps if you're not familiar with the process, but it's designed so you can't go too far wrong. Finally, you plug in the wall-wart power supply and audio output cables, and you'll be ready to go. I double-checked the alignment of the cartridge and can report that it was installed perfectly, with absolutely spot-on overhang and zenith. The tracking force readout was accurate, and the anti-skating control dialed in the correct amount of bias.
The underlying structure or plinth of the PS-HX500 takes a page from many of the budget turntables from small specialist manufacturers. It's a 11/8-inch slab of medium density fiberboard (MDF) onto which the platter bearing, motor, and tonearm are attached. In the past when Sony was selling turntables by the boatload, it made sense to create a special molded chassis for each model so they could crank them out. Using an MDF plinth works out better for smaller production runs, and besides, it offers better vibration damping and performance. To further enhance this vibration control, the plinth is supported on four squishy rubber damping feet.
The motor is a small DC unit that's compliantly mounted into the plinth, and it drives a die-cast aluminum platter. At around 18 ounces, the platter does feel a bit lightweight, although the thick rubber mat weighs almost as much as the platter itself, bringing the total platter weight up to around 2 pounds. The platter sits slightly recessed into the plinth, giving the PS-HX500 a sleek, low-profile appearance.
Because it's a completely man- ual turntable, the controls on the PS-HX500 are very simple. A four-way switch has Standby, On, 33, and 45 positions, which means you can keep the electronics powered up while you turn off the motor to change records. Without this feature, the turntable would switch off its analog-to-digital converter each time you wanted to change the record, thereby unlocking it from the recording software running on your computer.